Indigenous Futures Cluster Presents
Indigenous Futures Cluster Presents is the public event arm of the Indigenous Futures Cluster (IFC) at the Milieux Institute for Art, Culture, and Technology. The IFC explores how Indigenous people are imagining the future of their families and communities. We are interested in narratives, frameworks, and technologies that help us articulate a continuum between our histories, our present, and the seventh generation and beyond. We take a research-creation approach to these issues, employing art-and technology-making coupled with scholarly analysis and conceptual development to illuminate how the challenges of the present can be addressed, in part, through concrete, constructive, and critical dreams of the future. IFC Presents is our ongoing series of talks, performances, exhibitions, and other public engagement activities.
Léuli Eshrāghi | Indigenous diaspora + language monuments in the Great Ocean
Horizon/Indigenous Futures Postdoctoral Fellow Léuli Eshrāghi will discuss Indigenous diaspora and language monuments through recent major curatorial and artistic works from around the Great Ocean. Léuli Eshrāghi is a multilingual Australian artist, curator and writer from Sāmoan, Persian, Chinese and other ancestries. Léuli completed a PhD in Curatorial Practice at Monash University in 2018. He holds qualifications in Indigenous arts management, francophone Great Ocean literature, Indigenous studies and comparative cultural studies. Léuli creates performances, installations, writing and curatorial projects centered on the body, ceremony, language renewal and hopeful futures. He exhibits and publishes regularly and serves on the board of Indigenous arts advocacy organization, Aboriginal Curatorial Collective | Collectif des commissaires autochtones (Canada), on the advisory boards of PHOTO2020 photography biennial (Australia) and of Melbourne Museum's Pacific Gallery Redevelopment (Australia)
Jesse Tungilik | Using Conceptual Sculpture to Bring Social Change
Using Conceptual Sculpture to Bring Social Change
Jesse Tungilik will discuss his artistic practice of creating conceptual art to draw attention to and explore contemporary issues that face Inuit in Canada. The social and political realities of the Inuit have changed dramatically in recent decades. Colonization, assimilation, forced relocation and forced transition from a semi-nomadic subsistence-hunting way of life to a sedentary wage-based existence in less than a century has helped to sow sociopolitical chaos in Inuit society. Drawing on his experiences developing policies and legislation in government as an arts administrator, and reconciling his memories of his late father who was an outspoken residential school survivor, as well as his own struggles with his cultural identity, Tungilik has created conceptual sculptures aimed at challenging preconceived notions of Inuit art and the prevailing notions of Inuit in contemporary Canada.
THE INFORMANTS | Screening with Adam Khalil
Screening with Adam Khalil
Through video and performance, THE INFORMANTS will examine the desire for indigeneity in the myths, dreams, and political foundations of the so-called Americas. Within the entangled emergence of multiculturalism, neoliberalism, decolonialism, and self-reflexive anthropology, cultural apprehensions which arise from fears of offense imbricate and fuel stronger calls for Indigenous information and informants. Many non-Indigenous people find ways to frame themselves as Indigenous, just as Indigenous people perform indigeneity themselves. If these tendencies are so deeply entrenched in this nation's self-image, can they be studied, manipulated, or employed by Indigenous people to catalyze an expansion of Indigenous agency, amplifying the power of the informant? Can desires that push Indigenous people to an ideal and irretrievable past instead be channelled to promote the imagining of Indigenous futures?
Achimostawinan Games | Building an Indigenous Cybernoir
Building an Indigenous Cybernoir
Tell us a story! That's what Achimostawinan means in Cree and it is the foundation of all our projects. We want to create fun, exciting and original games that tell new Indigenous stories. Founded in 2016 by Métis game designer Meagan Byrne and Maliseet animator Tara Miller, we are an Indigenous-led games and digital project studio. Our team includes founding members, Meagan and Tara, as well as Métis sound designer Travis Mercredi, jazz musician Colin Lloyd and programmer Gabi Kim Passos. Some ask, why games? We make games because we're excited about how they draw us into impossible worlds and tell stories in ways we've never been able to before while remaining grounded in an Indigenous perspective.
Achimostawinan Games completed a residency hosted by Initiative for Indigenous Futures from May to June 2018.
Kite
Listener
"Listener" is an iterative, site-specific performance artwork engaging with Lakota epistemologies through computational media, machine learning algorithms, and narrative. The artist uses a custom-built technological suite that enacts relationships between the body, the user/performance interface, and the computer. The performance system consists of a hair-braid interface with movement, audio, video, sculpture, and text creating a spiral feedback dynamic between body and system.
Kite aka Suzanne Kite is an Oglala Lakota performance artist, visual artist, and composer raised in Southern California, with a BFA from CalArts in music composition, an MFA from Bard College's Milton Avery Graduate School, and is a PhD student at Concordia University. Her research is concerned with contemporary Lakota mythologies and epistemologies and investigates the multiplicity of mythologies existing constantly in the contemporary storytelling of the Lakota through research-creation, computational media, and performance practice. Recently, Kite has been developing a body interface for movement performances, carbon fiber sculptures, immersive video & sound installations, as well as co-running the experimental electronic imprint, Unheard Records.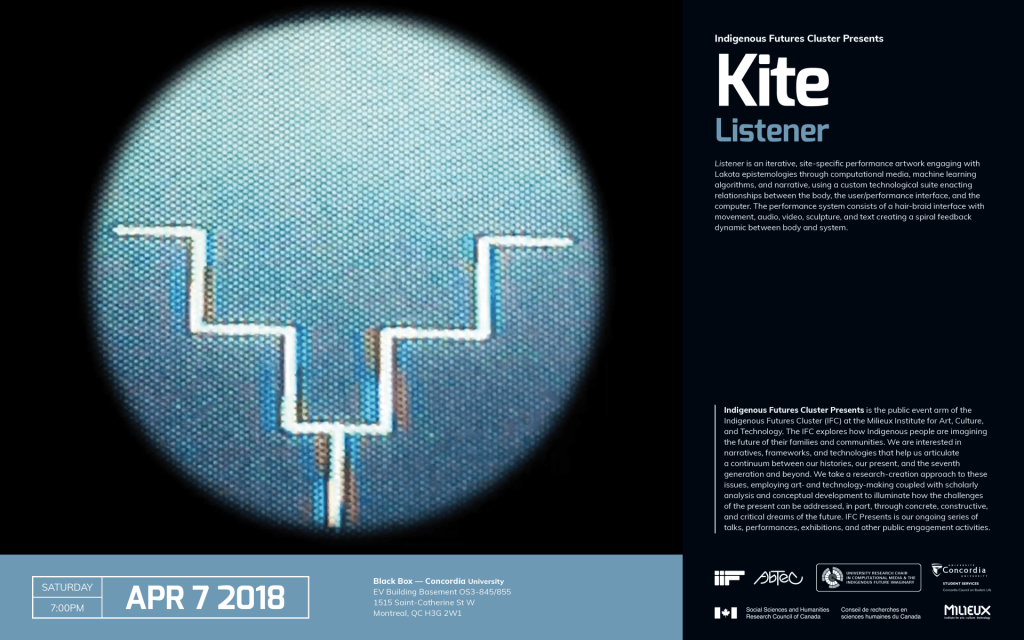 Ryan McMahon
Red Man Laughing—Reflections on Reconciliation
This presentation shares the discoveries, stories and challenges of the groundbreaking fifth season of Ryan McMahon's celebrated podcast Red Man Laughing. Ryan brings audiences behind the scenes and into the world of the show with an in-depth and challenging analysis of the reconciliation movement in Canada today. The show's fifth season has set the bar high in terms of the ways independent or mainstream media can and should respond to the calls for reconciliation.
Ryan McMahon is an Anishinaabe comedian, writer, media maker and community activator based out of Treaty #1 territory (Winnipeg, MB). One of the most decorated Indigenous comedians/writers/media makers working today, Ryan's voice has become vital to both Indigenous and non-Indigenous communities – his comedic storytelling style is fast-paced, loose and irreverent as he explores the good, the bad and the ugly between Indigenous Country and the mainstream.
Nathan Young
We Are Making A New World: Time, Territory and the Poetics of Forced Nomadism
Nathan Young will speak about his art practice and how it has been informed by the intersection of his own familial and personal experiences with policy development before and after the termination era (1940's-1960's), including the reorganization of tribal governments, the sovereignty project that ensued and the rise of the tribal corporation-nation hybrid. Young, whose parents participated in the re-vitalization of the Native American Church in the 1970's and 80's, practiced the same peyote religion as an adult. His presentation, "We are Making a New World," will contemplate reconciling these experiences as an artist and as an elected member of the Delaware Tribal Council, where he works to craft responsible and meaningful policy to help shape the future of the Delaware Tribe of Indians, a diverse community of over 11,000 members.
June Scudeler
"Better as a boy or girl?:" miyo-wîcêhtowin in Kent Monkman's Future Nation
Swampy Cree filmmaker and visual and performance artist Kent Monkman's third film, Future Nation (2005) , addresses the coming out of an Indigenous youth in a dystopic future Toronto. Although Future Nation is a narrative film, it has a decidedly unconventional topic as Indigenous gay teenager Brian finds love with Indigenous dominatrix James / Tonya during a "megapox" epidemic. Monkman, who wrote the script, positions women and drag queens as the most powerful characters in his film. They are the providers, which is sometimes seen as "traditionally" a male responsibility, although women often participated in hunting and certainly contributed as much as men to the family diet. Monkman also depicts women as much more open to differing gender roles and sexualities. Two Spirit people and women are more willing to enact the Cree concept miyo-wîcêhtowin or expanding the circle than straight, cisgendered men.
Noelani Arista
Kilohana: Seeking into the Indigenous Future: The Mana of Mo'olelo
In this talk, I will discuss my experience as a participant in He Ao Hou as an ongoing search to proliferate mediums (mana) through which moʻolelo (story and history) can travel. Sharing the tensions that produced my creative design of Aloha 365, and watching (& participating in!) the digital proclivities of a rising "Me! Me! Meme!" generation, I reveal possibilities and anxieties over the limits of how online engagement or gameplay structures ʻike (knowledge), and ʻiʻini (desire), as a way to ignite a broader discussion on iteration, design, and storytelling.
Kauwila Mahi
Pā'ani Wikiō: Ludic Sovereignty
"Pāʻani Wikiō: Ludic Sovereignty" is a presentation pertaining to spatial tags on colonial walls and creating subsistence futurity through ludology. The presentation will begin by looking at video games depicting Hawaiʻi and transition into emerging pāʻani wikiō, like He Ao Hou as sovereign from the normative colonial entanglement of imperialism, military gentrification, culturecide, ethnocide, and historical trauma in Hawaiʻi. The presentation will be describing the process of creating He Ao Hou , a pāʻani wikiō or video game which is Hawaiʻi —centric and the relations between Concordia University, Tiotia:ke and Hawaiʻi as a de‑colonial praxis to imagining and generating sovereign futures.
Kristina Baudemann
Indigenous Future Imaginaries and the Question of Utopia
In Indigenous speculative arts and literatures, the future can be anything: a playful what-if scenario where the land is returned to the Indigenous people; a cyberpunk town where Indigenous artists prowl about in their bioengineered bodies; or a powerful feeling of hope as the viewer watches Indigenous people beat the colonial monsters at their own game. But what about utopia? The term is frequently used to describe hopeful visions of the future, but its colonial history makes it a problematic concept for Indigenous literary and artistic expression. In her talk, Kristina Baudemann will explore how utopia might fit into the heterogeneous field of Indigenous futurisms (Indigenous-centered stories about the future). Can we apply the concept meaningfully to Indigenous future imaginaries? And what do we gain by reading/watching Indigenous futurisms for utopia? This talk aims not only at providing answers, but also at raising questions; listeners are cordially invited to join the discussion.
Elisa Harkins
Harkins Elisa Harkins is a Native American (Cherokee/Muscogee) composer and artist originally hailing from Miami, Oklahoma. Harkins received her BA from Columbia College Chicago and her MFA from the California Institute of the Arts. She has since continued her education at the Skowhegan School of Painting and Sculpture. Her work deals with the concept of "Performing Life", in which the performance intersects with her actual lived experience. Harkins uses electronic music, sculpture, and the body as her tools. She has exhibited her work at documenta 14, The Hammer Museum, SBC Gallery, and MOCA North Miami. Harkins is an enrolled member of the Muscogee (Creek) tribe.
Suzanne Kite
Everything I Say is True
Everything I Say Is True is a multi-media performance work by Southern California-based, Oglala Lakota artist Kite, aka Suzanne Kite. In the performance Kite constructs a complex narrative through the use of her own family's ephemera and historical documents as well as through a new body of work in various mediums, including video, sound and sculpture. Everything I Say Is True considers concepts of truth in relation to Oglala Lakota knowledge systems. Commissioned by Walter Phillips Gallery, Banff Centre.