PURITY & decay
Achimostawinan Games
2018
Hosted by: AbTeC/Milieux/Concordia University
Residency Activities
"What would our world look like on the brink of freedom from colonial oppression?" This is the question the team of Achimostawinan Games asked themselves before they started their project PURITY & decay (P&d). When we think about the future there seems to be one of two modes: utopia or dystopia, but what else is there? Achimostawinan Games wants to imagine a world that is not perfect nor a wasteland. We want to imagine a future grounded in North American indigenous ways of being and existing in the day to day, but that also examines the stratification of existence caused by colonialism and globalism. Because of this, it is especially important for our team that we develop a game that does not use violence as a mechanic.
Achimostawinan Games used this residency to develop a fully working prototype of their game mechanics. They also presented a public talk entitled "Building an Indigenous Cybernoir," as part of Indigenous Futures Cluster Presents, on May 24, 2018.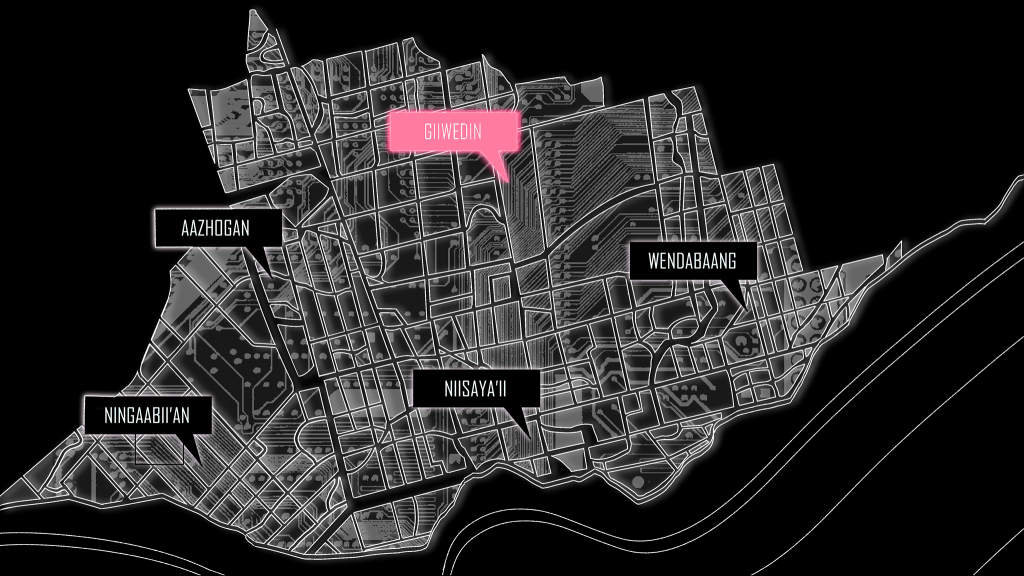 Bio
Achimostawinan Games is a majority-Indigenous group dedicated to creating video games for Indigenous people by Indigenous people. Its members include:
Meagan Byrne is a Métis game designer from Hamilton, Ontario. She is co-director of Indigenous Routes and Dames Making Games and is the founder of Achimostawinan Games. She has worked solo on other new media/ game projects such as Wanisinowin|Lost which explores the difficulty of a young Métis girl navigating between two worlds. Wanisinowin|Lost was premiered at imagineNATIVE 2015. She holds a degree in English Literature from McMaster University and a degree in Game Design from Sheridan College. Meagan will be both game and narrative designer on this project.
Tara Miller is an artist and animator from the Maliseet First Nation. She is trained in multiple art forms including painting, printmaking, and sculpture, and enjoys telling stories through her art, no matter what the medium. She is has studied and curated gallery exhibits for Indigenous art; a result of her passion for learning from and promoting modern Indigenous artists. Currently, Tara is studying animation at Sheridan College with the goal of furthering herself as an animator and storyteller. Tara's artwork and animation is the visual heart of the game.
Travis Mercredi is a sound designer, producer and musician from the Northwest Territory Metis Nation. He currently resides in Montreal where he is expanding his sound design practice into interactive media through Concordia University's Computation Arts program. He will be responsible for bringing the sound effects and musical compositions of PURITY & decay to life.
Born and raised in Ottawa, Colin Lloyd moved to Montreal to study Jazz Performance at McGill University. He is currently active as an award-winning composer for short films and video games, as well as an internationally-touring trombonist and performer. He hopes to incorporate his many musical passions into the score for PURITY & Decay as the project's composer.Gabriela Kim Passos is a Brazilian game developer who focuses on gameplay, AI and UX programming and design, in Unity and Unreal. Gabriela has worked as Lead Unreal Programmer on the recently launched Yumi and Boom, an animated VR experience officially shown at the ReelAsian Film Festival. Most recently she has worked with media artist Nyla Innuksuk for imagineNATIVE creating the 2167 app, a GearVR gallery app that plays 360 videos and launches other imagineNATIVE VR apps.