hochelaga rock
Hannah Claus
2017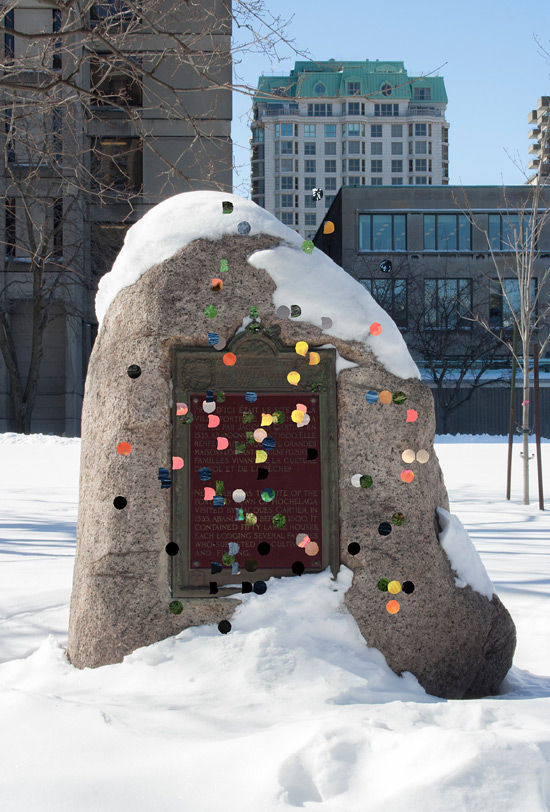 Hannah Claus participated in an AbTeC residency from May 1 – December 1, 2017.
Hannah Claus is a visual artist of English and Kanien'kehà:ka / Mohawk ancestries. Hannah is a member of the Tyendinaga – Mohawks of the Bay of Quinte, and has been living and working in Tioh'tiá:ke – Montreal, Quebec – since 2001. She graduated from the Ontario College of Art and Design in 1997 and obtained her MFA from Concordia University in 2004. Her installations have been exhibited throughout Canada, the United States, in Germany, Switzerland, Mexico and Chile. Her work is included in various public collections, such as the Canada Council Art Bank, the City of Montreal and the Department of Global Affairs Canada. Concurrent with her studio practice, she is Vice-president on the board of directors for the Aboriginal Curatorial Collective and teach contemporary Indigenous art as a sessional lecturer at Kiuna, a First Nations post-secondary institution, in Odanak, Quebec.
Residency Highlights
During the residency, Claus developed a body of work that culminated in a touring exhibition hochelaga rock that was presented at aceartinc. (Winnipeg) from August 4 to September 15, 2017; articule (Montreal) from October 21 to November 19. 2017; and Artspace (Peterborough) from January 12 to February 17, 2018.
Claus was interviewed by AbTeC Research Assistant and social media coordinator Dion Smith-Dokkie. A transcript of the interview can be downloaded in the following formats: .doc | .pdf | .txt.
Exhibition description:
The intent with this exhibition is to highlight the fluidity of Indigenous knowledge and time, and the constraints imposed upon this understanding by Western structures of chronology and record. Utilizing the image of the Hochelaga Rock, the commemorative stone for the village and people encountered by Jacques Cartier in 1535 that sits at McGill campus in Tiohtià:ke / Montreal, Claus wishes to interrupt its solidity to express the dislocation in time, space and understanding between Western and Indigenous worldviews. This new body of work repositions the interplay of the stone marker, its plaque and the plaque's text, to make room for other voices, hoping to unsettle colonial truths and question what we know and how we remember. (Source: articule)