Tattooing Training Residency
Earthline Tattoo Collective
2017
Hosted by: UBCO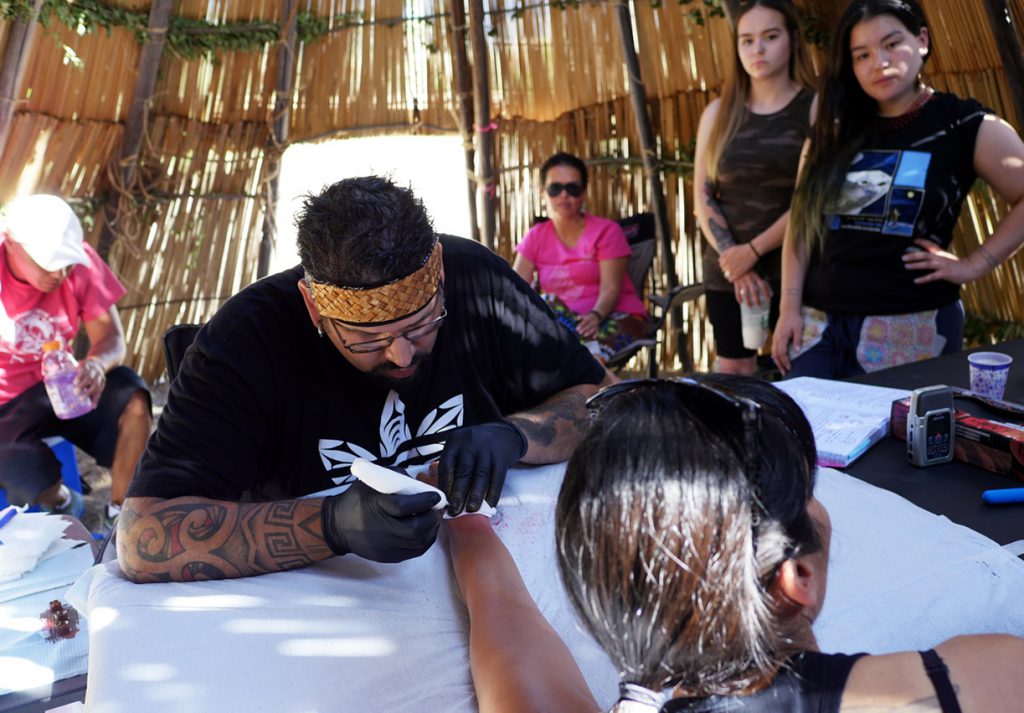 Earthline Tattoo Collective completed a residency from July 3rd to 28th, 2017, supported, in part, by the Initiative for Indigenous Futures and hosted by the Faculty of Creative and Critical Studies, University of British Columbia Okanagan.
Earthline Tattoo Collective conducted a training residency in which six Indigenous artists were invited to learn tattooing practices tied to ancestral traditions. With an emphasis on tattooing, the training residency encouraged participants to connect to the past, consider their actions in the present, and focus on projecting a future that contains strong and confident Indigenous individuals, families, and communities.
"Indigenous tattooing across Canada and Turtle Island has always been associated with embodying who we are as Indigenous peoples. The practice of tattooing was associated with coming of age, healing, beautification, clan identification, and many other things before it was put to sleep by the genocidal colonial practices of assimilation and domination. The revival of Indigenous tattooing in Aotearoa and across the globe has been a tool of decolonization, re-indigenization, cultural revitalization, and a way of strengthening and anchoring Indigenous youth to their cultures and peoples. As the Earthline Tattoo Collective looks into the future we have developed the Earthline Tattoo Training Residency as our answer to the question, 'What will you do for the people to be?'" (Jordan Bennett, Earthline Tattoo Collective)
During the final two weeks, Indigenous cultural tattoo practitioners from Hawaii and the Pacific joined the residency as guest mentors. The mentors shared their experiences and joined weekly exploratory visioning sessions in which the residency participants were given time to envision their nations' future and its connection to tattooing and other aspects of visual and material culture.
Highlighted residency activities
Imagining what artists and cultural tattoo practitioners have to offer to Indigenous futures
Connecting tattooing practices to Indigenous futures
Moving Indigenous nations and cultures forward by reviving tattooing
Providing Indigenous youth with the resources to access ancestral forms of cultural and artistic practices
Training Indigenous youth in the design, application and health aspects of tattooing
Earthline Tattoo Collective
Jordan Bennett (Mi'kmaq)
Dion Kaszas (Nlaka'pamux)
Amy Malbeuf (Metis)
List of participants
Maani Oakes (Sagamok Anishnabek, Six Nations, Waskaganish)
Jerry Evans (Mi'kmaq-Ktaqamkuk)
Audie Murray (Metis Nation of Saskatchewan)
Ippiksaut Friesen (Inuk-Nunavut)
Danika Naccarella (Gwa'sala-'Nakwaxda'xw, Nuxalk)
Amberley John (Oneida of the Thames First Nation – Haudenosaunee Confederacy)
List of mentors
Dean Hunt (Eagle Clan of the Heiltsuk Nation, Waglisla-Bella Bella)
Nahaan (Łingít, Iñupiaq, Paiute)
Nakkita Trimle (Nisga'a, Tlingit) or Elle Festin (Filipino)