Realizing "Realizing the Virtual: A TimeTraveller™ Experience" at the Dunlop in Regina
She:kon Sewakwekon, Greetings All,
On November 27, IIF's Partnership Coordinator, Skawennati, attended the opening of a solo exhibition of her work at the Dunlop Art Gallery in Regina, called "Realizing the Virtual: A TimeTraveller™ Experience." The gallery is presenting the machinima in a unique way: they have built recreations of three of the movie's virtual sets in which people can sit and watch the episodes: Hunter's storage locker apartment, Karahkwenhawi's bedroom, and their shared penthouse living room!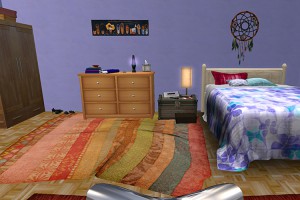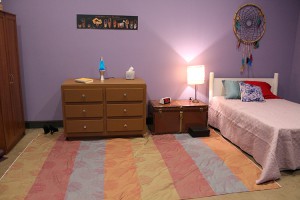 The idea came about when Dunlop curator Jennifer Matotek told Skawennati that she would love to find a more interesting way to show the episode than in a black box or a white cube, and asked if Skawennati had any ideas for Indigenizing the space. Skawennati was hesitant at first. "I like the black box and the white cube!" she said. And she wasn't sure what Matotek really meant by "Indigenizing the space". After some thought however, Skawennati realized that "Indigenizing the space" is exactly what she's been doing throughout her practice. Starting with her CyberPowWow project in 1997, she has been creating virtual places that are Aboriginally determined, and recognizable by Indigenous people as safe spaces to think, dream, create, interrogate and to be who we are and whoever we want to be.
Skawennati had also been dreaming of showing the nine episodes of TimeTraveller™ within Second Life, the virtual world in which she shot them, by inviting people (via their avatars) to enter the sets, many of which include screens, like the three sets featured in the exhibition.
From there it was a short leap to the idea of recreating the sets in real life. Next began the work of figuring out just how to do that. Skawennati chose the three sets she thought would be the most reproducible in real life. Her Research/Production Assistant, Erica Perrault, then took pictures of each of them and made a list of every item in each set. Some items, such as Hunter's jetpack, were clearly going to be a challenge. Others, like the Blade Runner movie poster, seemed easy. (There were in for a few surprises on that front!) The list also had 3 columns: items to borrow, items to buy, and items to make. Matotek foresaw early on that they would need someone in Regina to help, and promptly created an internship for a student from the University of Regina. Danielle Corson was soon hired as Studio Assistant. Her job was to source items around Regina –to basically check as many things off the list as possible. She ended up doing so much more than sourcing, including making the curtains for Karahkwenhawi's bedroom, a pair of tomahawks, and a fantastic replica of an ancient Aztec weapon! We were also lucky to have a great team at the Dunlop which included the preparator, Glenn Hubich, who helped enormously by making several large items that we thought we'd easily find but that were, in fact, unfindable. These included Karahkwenhawi's desk, headboard, and dresser (which was made by attaching six pieces of wood to a large plinth and painting it brown –looked terrific!). Danielle was able to find excellent toy replicas of most of the items on the two weapons walls, but a couple were so expensive we looked into alternatives. One of these was the Hans Solo gun, for which we found 3D files that Eric Hill, also part of the Dunlop staff, was able to have printed with the Regina Public Libraries' 3D printer!
While all this was going on in Regina, here in Montreal, Skawennati and (mostly) Erica were making the jetpack. It took several prototypes and a couple of missed deadlines, but the final product glowed with soft blue LED lights, just like the virtual one. They also searched the entire Internet for Hunter's chair, a modern take on the classic design known as the egg chair. Finally, Skawennati realized she'd have to find someone who could make it, and through coincidence and serendipity, she found Oliver Philbin-Briscoe, a student at Concordia. Skawennati had to bring all her sewing skills to bear to design and construct the curvy upholstery. Also created on the Montreal side were the giant dreamcatcher that hangs above Karahkwenhawi's bed, and the traditional Iroquois headdress, called a kustowah, that sits on her wardrobe. These were both made by Skawennati's cousin, artist Kathleen Dearhouse.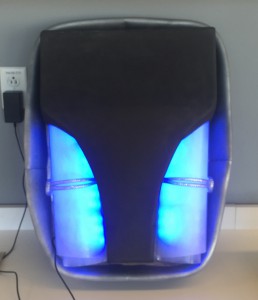 Quite a few other people helped along the way, including Blair Fornwald, Margaret Bessai, and Jason Hipfner from the Dunlop –thank you for your care and good minds. A special nia:wen to Scott Benesiinaabandan for the use of his image, blood memory no.2. My biggest thanks goes to Jennifer for having the vision to make this virtuality a reality! Nia:wen'kow:a!
The final outcome is a success. The rooms, even with their slight accommodations for real life, are perfectly recognizable as the TimeTraveller™ sets. An unexpected bonus is an uncanny feeling when one is in each room. It feels like the characters were just recently there. Where did they go? Into the cyberspace? There is a feeling of fiction coming to life, or vice versa; a sense of the back-and-forth of the real becoming virtual and then back again. A simulacra of the simulacra! If you are in Regina, go and experience it for yourself.
Installation component commissioned by Dunlop Art Gallery, Regina Public Library, 2015