IFF's First Residency: Postcommodity Artist Collective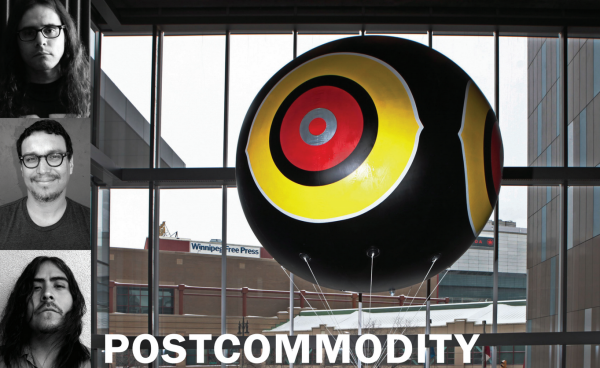 She:kon and Happy New Year! We are hitting the ground running after the holiday break with a week-long artist residency.
On January 7 we will begin our first Artist Residency. We are very excited to welcome internationally respected artist collective Postcommodity. With our partner, the imagineNative Film and Media Festival, we have invited Raven Chacon, Cristóbal Martínez, and Kade L. Twist to create a Virtual Reality artwork that imagines our world 150 years in the future. At Obx Labs—also known as AbTeC headquarters—our team of Computation Arts students have been sharpening their skills to take on this exciting new challenge. We have also been gearing up! We've ordered, received and tested several VR headsets, including the Oculus Rift and the Google cardboard. And the necessary software is downloaded.
As part of their visit, Postcommodity will give a free public talk on Friday, January 8 at 7 pm. Please join us. There will be light refreshments.
ARTIST TALK
Friday, January 8
7:00 PM
EV11.705 – Resource Room (11th floor)
1515 St-Catherine Street West (corner Guy)