Activating AbTeC Island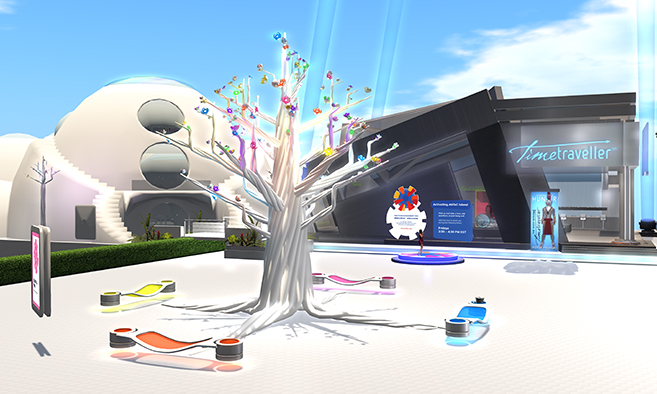 When: Email us at abtec@abtec.org to schedule a visit with us!
maps.secondlife.com/secondlife/AbTeC/78/172/1011
AbTeC Island is AbTeC's headquarters in cyberspace, situated in the online 3D virtual world of Second Life. Here you can visit AbTeC Gallery to see art exhibitions, hang out in sets made for various machinimas created by Skawennati (and co-produced by AbTeC), or build in our studio/sandbox.
Activating AbTeC Island is an initiative to see what can happen if we open an Indigenously determined, virtual location to the public. We have committed to being in-world every week to greet visitors, show you around, help you to customize your avatar, or even teach you how to build a snowman! Invite a friend!
(If you're here looking for information about AbTeC Gallery, please visit our AbTeC Gallery page)
How To Join Us
Anyone using a computer that meets Second Life's System Requirements can visit. Here's how:
First, you will need a Second Life account. It's free and quick to get: https://join.secondlife.com/
Once your account is created, you'll be sent to a webpage where you can choose your first avatar. Just as you need a body in this world, you will need an avatar to interact in the virtual world of Second Life.
Download and install the Second Life application: https://secondlife.com/support/downloads/
Open Second Life and log in with your account name and password.
You will see your chosen avatar, with your username above its head, appear somewhere in the enormous virtual world. Now you have to teleport to AbTeC Island.
To find us, either:

Paste the following URL address into the browser bar at the top of your window: http://maps.secondlife.com/secondlife/AbTeC/78/172/1011
OR
Use Second Life's location search function:

Go to the drop-down menu at the top of the window and select World > World map
Type "AbTeC" into the search bar and click Find
Select AbTeC from the search results and click Teleport
If neither of these options work, and you are accessing AbTeC Island during our scheduled hours, do a people search for "Abbi AbTeC" who will be online to rescue you or "Abbi Tigerfish".
Note: Anyone with the first name "Abbi" is a member of the AbTeC team.
We also have a printable "Beginner's Guide to Second Life" available for download.
We look forward to seeing you!