Jolene Rickard | The Photograph as Resurgence
On February 10th, 2017, Jolene Rickard, P.h.D. came to Concordia University to speak as part of the Future Imaginary Lectures.
Jolene is a visual historian, artist and curator interested in the issues of Indigeneity within a global context. She is from the Tuscarora Nation (Haudenosaunee), is the director of the American Indian and Indigenous Studies Program and Associate Professor in the History of Art and Art Departments at Cornell University, Ithaca, N.Y. She and Skawennati have known each other since 1999, when Jolene contributed an essay for CyberPowWow 2.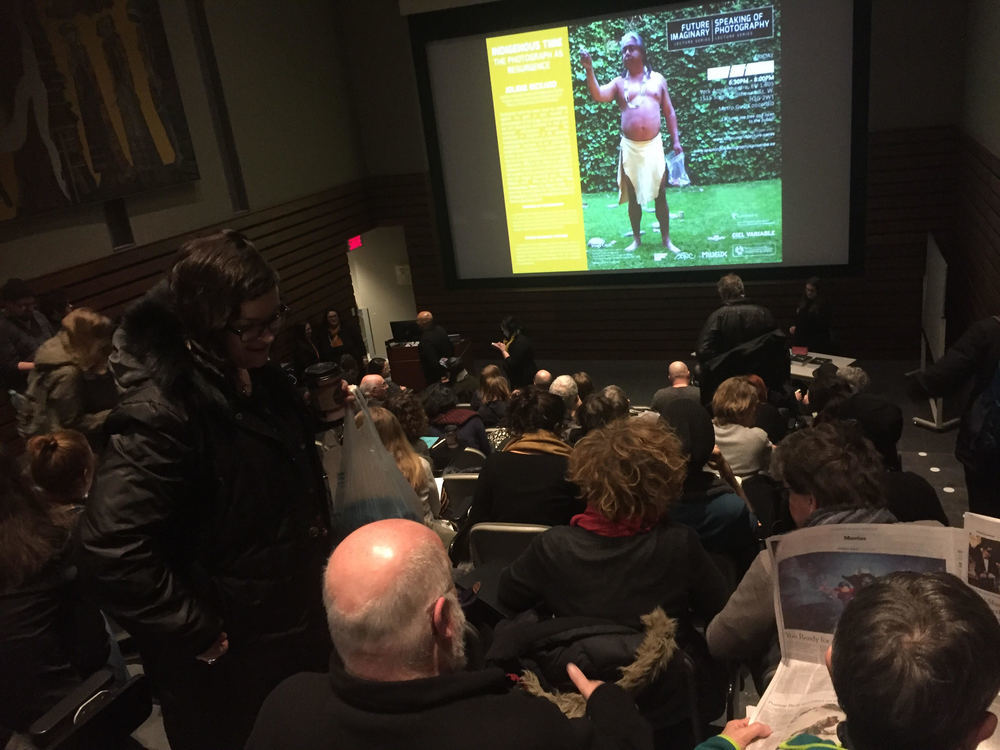 The evening started off with warm welcomes from Skawennati, Martha Langford representing the Speaking of Photography series, Heather Igloliorte and an introduction from Jason Edward Lewis who agreed with Jolene's self-identification as someone who is "always looking for the window left unlatched."
The lecture touched on various connected topics, such as the relationship between memory and photography, beadwork, cosmology, the concepts of resurgence and sovereignty and the creation story.
Photographs can share information and keep history. The importance of beadwork and its economic, political and cultural significance to the Haudenosaunee people could be seen in the images Jolene showed. The photo of Seneca woman Caroline Parker in her intricately beaded outfit and Jolene's own works in exhibitions like Across Borders: Beadwork in Iroquois Life were excellent examples. Photographs are also important because communities can collect them if they cannot get access to the physical items they represent.
Jolene noted that she is very interested in when specific articles appear in Indigenous expression. Why do certain artists focus on certain objects and topics at certain times? For example she spoke about the need to create work about the recovery peace after a violent period in time. She considered the concept of resurgence emerging in Indigenous intellectual landscape as a strategy for empowerment and action. The desire to represent ceremony in space and in a future context was also explored.
She mentioned that at one point she was discouraged from going back and forth between making, critiquing, writing, thinking and doing but now more people understand that "we're idea makers and we find the best way to locate the idea." Originally, knowledge and stories were shared orally until new tools were discovered. Over time, various alternative forms of expression have been used; such as, carving, beadwork, photography and more.
This transformation continues happening as projects like Skawennati's machinimas showcase stories in a form that could not have been imagined generations ago. Jolene spoke about Skawennati's new machinima She Falls for Ages, saying that it generates a new way to understand the Haudenosaunee creation story in current times. In her opinion, it also celebrates women's bodies and claims the arrival of Indigenous people to Turtle Island as an act of empowerment.\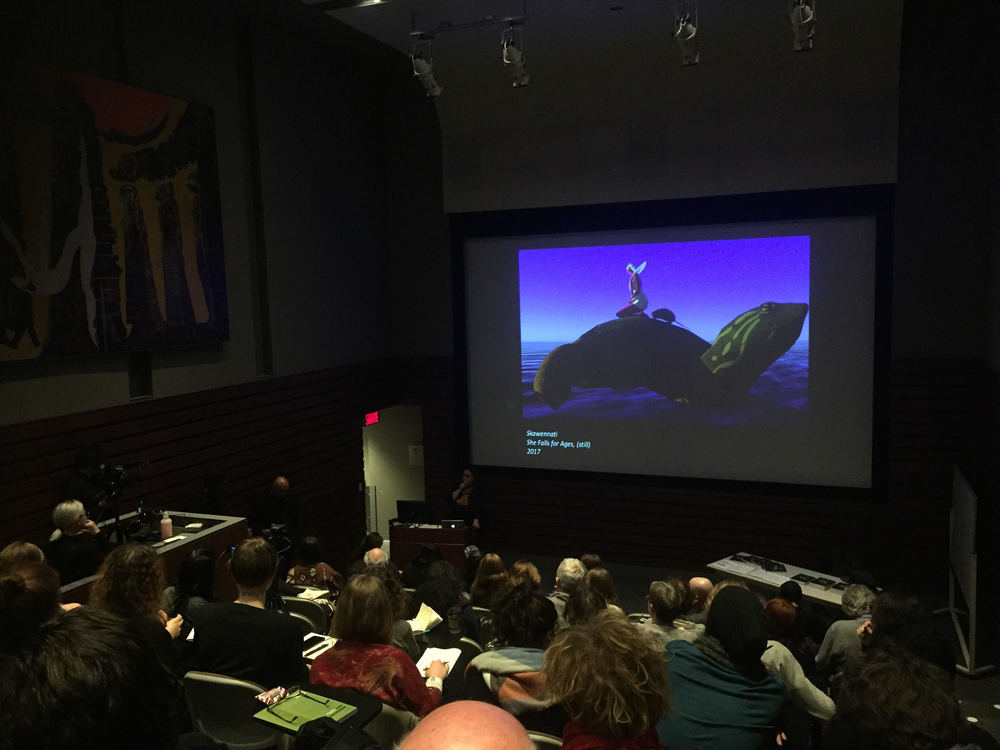 The Q&A session after her lecture brought up some interesting discussion. She clarified that she isn't suggesting that the present be ignored, but wondered instead how much information can be shared and how the creative process can help to open new possibilities.
There was a lot of great imagery and topics explored in-depth during this talk. Jolene is a charismatic speaker and best explains her work and the pieces she has chosen to present.
Follow us on Facebook and Twitter to hear about all our upcoming Future Imaginary Lectures.