Introducing Suzanne Kite, PhD Graduate Research Assistant!
by Suzanne Kite
September 21, 2017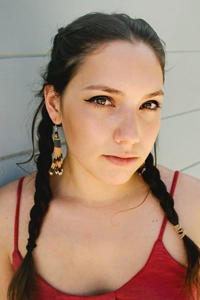 Suzanne Kite is an Oglala Lakota performance artist, visual artist, and composer from Los Angeles, with a BFA from CalArts in music composition, an MFA from Bard College's Milton Avery Graduate School, and is a PhD candidate at Concordia University. Recently, Kite has been developing a body interface for movement performances, carbon fiber sculptures, immersive video & sound installations, and has recently launched the experimental electronic imprint, Unheard Records.
We've included examples of Suzanne's work below. You can read more about her here and see more of her work here.
Welcome to AbTeC and to Montreal, Suzanne!