Introducing Kaia'tanó:ron Dumoulin Bush, AbTeC/IIF Undergraduate Research Assistant!
by Dumoulin Bush
May 31, 2018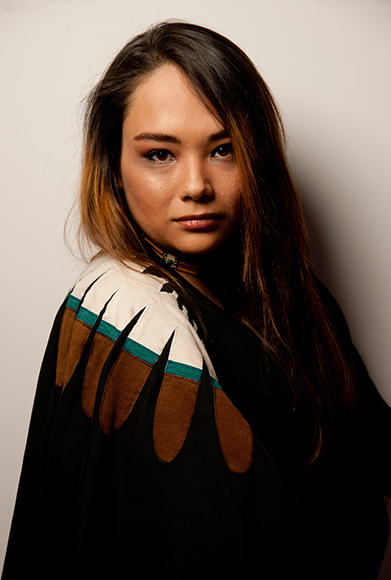 Kaia'tanó:ron Dumoulin Bush is a Kanien'kehá/French-Canadian illustrator and visual artist from Montreal, Quebec. Currently, she is completing her BFA in Indigenous Visual Culture at OCAD University and has previously obtained DECs in Fine Arts and Illustration & Design at Dawson College. Her personal artwork deals with sexuality, violence, identity, and politics. While professionally, she loves collaborating with clients who seek to enrich Indigenous communities and empower Indigenous youth. Since 2012, Kaia'tanó:ron has worked with the Encore! Sistema after school and summer camp programs based out of Karonhianonhnha School in Kahnawake, QC. as a music and visual arts educator teaching students from grades two to six. Her freelance work has allowed her to work with a variation of organizations from Montreal, to Toronto, and in-between such as Jumblies Theatre Company, Onsite Gallery, and The Red Dress Project. In 2017, she participated in Toronto's Nuit Blanche in collaboration with Deanna Bowen and Syrus Marcus Ware of Black Lives Matter, in Won't Back Down – one of NOW Toronto's top 10 must-see shows at Nuit Blanche 2017. This summer, she celebrates the publication of her first graphic novel and trilingual (Kanien'kehá, French, and English) picture dictionary – Hé:, Ahsennénhkha! (Bravo, le Milieu! -Yay, Middle!) published by Kawennakátste' Mohawk Language Arts.
Her artistic practice is diverse, including but not limited to illustration, graphic design, painting, sculpture, and curation. As the co-president of the Indigenous Student Association at OCAD University, she has also undertaken multiple curatorial projects in order to provide Indigenous students with the opportunity to experience exhibiting their work in a gallery setting. Since 2015, she has co-curated five exhibitions, Inheritance (Dawson College), Primitive, Tewá:ko-Dagoshin-Otiacicoh-Takoshin-Bagamaawaniidiwag (Arrive), Terra Incognita (Daniels Spectrum), and most recently, Flux Refusal.
You can look through Kaia'tanó:ron's work here. Her Instagram handle is @owlerfish and you can send her an email at kaiatanorondumoulin@gmail.com.