IIF Summer Recap
by Darian
October 21, 2016

She:kon! Fall has arrived here in Montreal and the view of Mount Royal's trees from the lab is bright and colorful.
The Initiative for Indigenous Futures had a busy summer and so we will share what we were up to in the warm months.
On June 1, 2016 we welcomed another addition to the Illustrating the Future Imaginary series. Mi'kmaq artist Ray Caplin created the piece Hunter of Altered Game.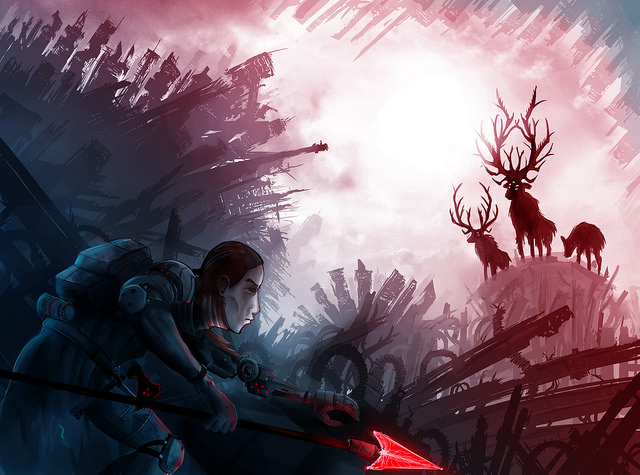 Postcommodity returned to Montreal July 22 to 29 for their second residency. They worked intensely with the IIF team and were able to complete a working version of their virtual reality experience Global Center for Self-Realization and Liberation.
The 2nd Annual IIF Partnership Meeting took place August 4, 2016 in the University of British Columbia-Okanagan in Kelowna, British Columbia.
The 2nd Symposium on the Future Imaginary was held the following day on August 5, 2016 also at UBCO. The Symposium was an interdisciplinary conversation about where Indigenous communities see ourselves in seven, twelve, even twenty generations, and about how to develop strategies to get there. The full-day event was held during the ​O k'inadas // complicated reconciliations​ artists residency. It featured preeminent artists, academics, activists and technologists envisioning their own particular Indigenous Future Imaginary.
There were also demonstrations of the Virtual Reality projects from our residencies. Scott Benesiinaabandan showed his project Blueberry Pie Under the Martian Sky and Cristóbal Martínez represented Postcommodity as he showed their project Global Center for Self-Realization and Liberation.
Skawennati and research assistants Erica Perreault and Darian Jacobs went Vancouver to run a Machinima Workshop in August with the Contemporary Art Gallery and the Museum of Anthropology's Native Youth Program in Vancouver.
Six urban Aboriginal youth formed teams to create two machinimas, each recounting a legend that the participants were given permission to tell. The workshop was held at Emily Carr University and ran over 4 days. Pre-production skills, production and editing skills were taught in this time. By the final day both teams had finished filming and one had even done an initial edit of their machinima!
A new addition to the IIF website is an interactive partnership timeline which was made over the summer. It's a helpful tool for getting an overview of everything that IIF has been up to since the start of February 2015 and even a little into the future.
That was our summer in a nutshell!