ICFA, Indigenous Futurisms–and Monsters
by Kristina Baudemann
April 18, 2018

Out of all the conferences I go to every year ICFA is my favourite.
The International Conference for the Fantastic in the Arts is one of the largest academic conferences for the fantastic, with hundreds of international scholars and over a hundred attending authors and artists. It is held annually in Orlando, Florida, in March—this was my third time attending.
ICFA is an amazing place to explore new ideas and get inspired. With the first half of this post I would like to give a short glimpse at my experience of this year's conference; in the second half, I'll give an example of such a moment of inspiration.
This year's theme was "200 Years of the Fantastic: Celebrating Mary Shelley and Frankenstein." In 1818, Mary Shelley's famous novel Frankenstein, or: The Modern Prometheus was first published. Her story of the young scientist Victor Frankenstein and his tortured, monstrous creation is commonly considered one of the first science-fiction novels and has not only spawned a multitude of film adaptations, but also a multitude of different readings. Throughout the past decades, scholars have interpreted Shelley's work as a classic tale of human hubris, or of the dangers of science and technology: Victor Frankenstein plays God when he gives life to a creature he made in his science lab. Others have focused on Shelley's careful nesting of plots and sub-plots, the novel's many references to other texts, or on the presence and absence of women (in the book, the monster does not get his bride!). And some have read the monster in a colonial context—as the Other that serves as a projection screen for colonial nightmares.
Needless to say, this year's ICFA was full of literary monsters.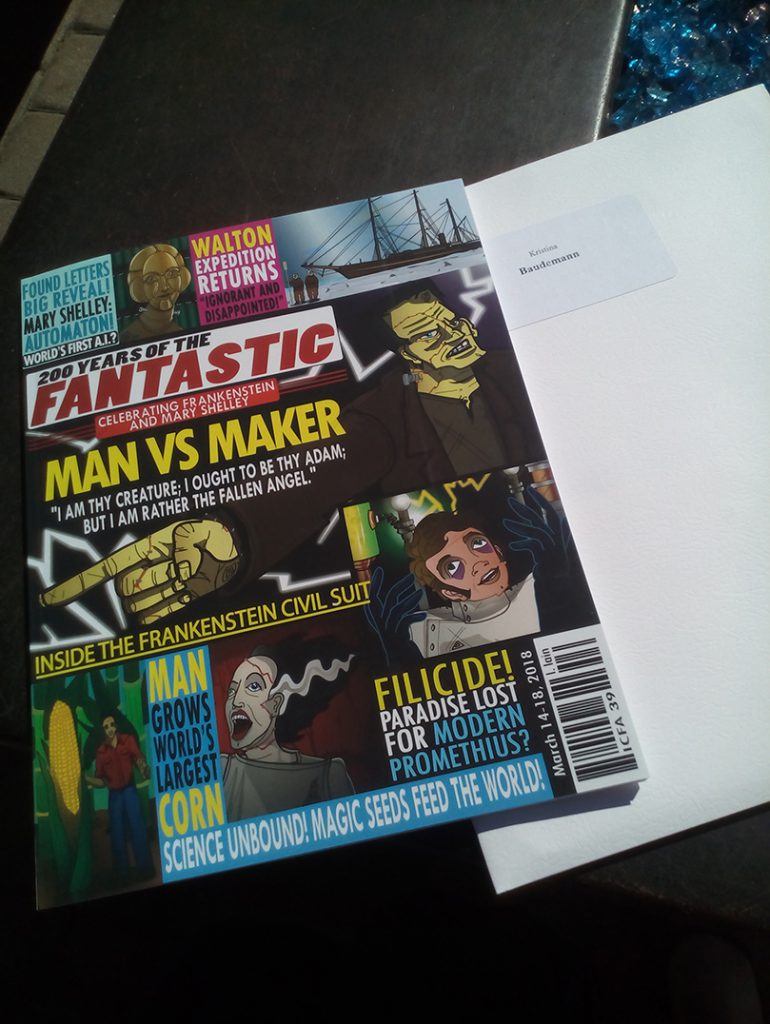 I encountered them in every session. Monstrosity was discussed in all of ICFA's sections—science-fiction, fantasy, horror, film & television, children's and young adult literature, visual and performing arts, fairy tale and folk narratives, and the international fantastic. I heard interesting and well-researched talks on the monstrous across many disciplines; some dealt with monstrous representations, others read monsters against the grain or looked at different aspects within the works of monster and horror fiction. A few examples include the design of monsters in video games (by Concordia University/TAG's Sylvain Payen), the lack of a female POV in popular horror fiction where 'woman' still seems to be one of the most monstrous things imaginable (speculative fiction writer Elsa M. Carruthers & African American horror writer Rhonda Jackson Joseph), and mathematician Sean Nixon's fascinating talk on Riemann surfaces in Stranger Things. This year's theory round-table discussed Donna Haraway's 2016 work on monstrous kin, Staying with the Trouble: Making Kin in the Chthulucene. The paper sessions and panel discussions include such intriguing topics as 'Franken-Fashion,' 'A Song of Liberation and Fire,' 'Decolonizing Fantastic Storytelling,' 'Gendered Horror,' 'Curating Frankenstein' and 'Horror without Borders.'
Conference highlights—next to the excellent talks and invigorating discussions—included the screening of the 1931 horror film classic Frankenstein, the short plays written and performed by IAFA's scholars and authors (International Association for the Fantastic in the Arts) at the Friday night ICFA Flash Play Festival, and the banquet held traditionally on the last night of the conference that is continued outside by the pool.
ICFA is not only a great place to connect with peers—the other PhD students grappling with the monster that is their dissertation; it also provides the frame to address international specialists of the fantastic and interact with writers and artists. This year's ICFA attendees include, for instance, Nisi Shawl (Everfair), Andrea Hairston (Mindscape), John Rieder (Science Fiction and the Mass Cultural Genre System), Sherryl Vint (Animal Alterity: Science Fiction and the Question of the Animal), Brian Attebery (Decoding Gender in Science Fiction), and Paweł Frelik (Digital Science Fiction; ed. with Rob Latham). Other regular attendees who have contributed to ICFA's "magical, other-worldly, annual meetings" ("History," fantastic-arts.org) in the past include Nalo Hopkinson (Midnight Robber), Farah Mendlesohn (Rhetorics of Fantasy), Isiah Lavender III (Race and Science Fiction), and Grace Dillon (Walking the Clouds: An Anthology of Indigenous Science Fiction). This year's guests of honor were authors Nike Sulway and John Kessel, and science fiction scholar Fred Botting.
My own paper for this year's conference drew on Fred Botting's scholarship, as well as on the writings of postcolonial, Afrofuturist and Indigenous futurist scholars, such as Lisa Yaszek, Isiah Lavender, Grace Dillon, Roger Luckhurst and Sara Juliet Lauro. In my talk entitled "'Being a werewolf isn't just teeth and claws': Indigenous Futurisms and the Monstrous" I fused readings of the monstrous in Frankenstein with Indigenous futurisms—Indigenous speculative fictions that foreground a future-theme.
My dissertation on what Jason Lewis calls the "future imaginary" ("Brief" 37) in Indigenous literatures, arts and new media already had had me thinking about the role of monsters in Indigenous futurisms. Sure, the literatures of Indigenous North American people are full of monsters, but these are not fictional. The colonial monsters in the works of Gerald Vizenor, Tomson Highway, Louise Erdrich and Leslie Silko are real—terribly so.
However, for my talk I was not interested in these monstrous characters. I was wondering about the literal monsters, the werewolves and zombies, and their meaning. Are they colonial? Are they terrifying, grotesque, cathartic? Or, do they, somehow, represent a form of empowerment? And they really encode colonial events—then why tell colonial history as a speculative horror story? Doesn't the monster trope always run the risk of transforming very real horrors into cinematic clichés?
To find answers to my questions I presented my analyses of two fantastic works to my audience: Stephen Graham Jones's postindian werewolf novel Mongrels and Jeff Barnaby's Indigenous zombie horror film Rhymes for Young Ghouls. Joining me on the panel on 'Indigenous Futures' was Stina Attebery with her fantastic talk on Elizabeth LaPensée's game Thunderbird Strike. Together with our audience we discussed monsters, textual, filmic, digital and real, werewolves, zombies and monstrous pipeline snakes, and the importance of Indigenous art, writing and games for the future—all our futures.
These monsters and the questions they begged stayed with me throughout that day. Interestingly, my thoughts finally came full circle in the late afternoon during a panel discussion on the 1990s hit TV show Buffy, the Vampire Slayer. The discussion turned toward how Buffy famously literalizes the tagline 'High school is hell!' One of the panellists, Justin Cosner (University of Iowa) argued that this portrayal of a high school filled with actual monsters was necessary because in the 1990s US-American high schools simply did not provide the structures necessary to reflect on what was wrong with them.
The key phrase that suddenly made things fall into place was 'lack of necessary structure.' This might refer to a structure of people or information channels. But it could also, in more abstract terms, refer to a structure that produces meaning. Indeed, when the ideological structure that is in place works to produce a narrative according to which certain events, certain people or certain horrors simply cannot exist, these horrors manifest themselves in other ways. In strictly literary terms, the overwhelming fact of their existence might break through as monstrous aberration of the neat and seemingly flawless system. To summarize: in literature and film the monstrosity of certain characters can be understood as an outward sign of an error in the code—a mutation of the smoothly running signifying system that is the Western literary and cinematic tradition. In other words: something is wrong with "the stories empire tells itself" (Byrd xiii).
I suddenly felt that that is precisely what Jones's and Barnaby's works did. Their monsters are many things and allow many readings, and one of those readings involves considering them as dysfunctional signifiers: the werewolves and zombies with their fangs and rotting flesh foreground the interaction between the colonial system and narratives that clash with it. Indigenous authors and artists are not satisfied with signifying horror within the neat confines of the plot, as literary descriptions or fictional characters that vanish when the film is over, and the book is finished. To show how deep these horrors run they are manifested on a metafictional level, too—this is the level that points back toward the text itself and draws readers' and viewers' awareness to its production.
The werewolves and zombies literalize the discrepancy between the gruesome and traumatic historical material and the structures provided in Western cinema and literature to discuss this material. Indeed, they are also a reflection on the structures language itself provides to mediate the reality of colonial horror. The dysfunctional aspect of language and text manifests itself in monstrous characters c h a r a c t e r s: werewolves and zombies that will not vanish when the film is over, and the book is finished—precisely because they point back toward a traumatic reality beyond fiction that cannot be articulated, but that will not be silenced either. With a look at the future these textual and cinematic monsters work to dissolve the structures that cannot integrate them: Jones's werewolves shift out of their expected textual shape; Barnaby's zombies threaten a resurgence of 'Other' meaning believed to be dead and gone—the (hi)stories of the colonized. These monsters signify the impending doom of the oppressive colonial system and they mean a monstrous future for the colonizer—the future is a "monstrosity" (Derrida 5) in Barnaby's and Jones's Indigenous futurisms because its creation means a dissolution of present colonial and imperial metanarratives that claim to encompass all of reality. In Jones's novel and Barnaby's film, the future demise of these allegedly universal systems is already casting its long, monstrous shadows on the present.
These were some of the ideas inspired by the Buffy panel and different ICFA talks on monsters and the monstrous and developed further in discussions with other conference attendees. Hopefully, I will be able to present old and new thoughts and I am eager to hear my fellow scholars' fresh perspectives at next year's ICFA, the 40th anniversary year.
The theme is 'Politics and Conflict'—I can't wait!
Works Cited
Byrd, Jodi. The Transit of Empire: Indigenous Critiques of Colonialism. U of Manitoba P, 2011.
Derrida, Jacques. Of Grammatology. Translated by Gayatri Chakravorty Spivak, John Hopkins UP, 1997.
Lewis, Jason. "A Brief Media History of the Indigenous Future." Indigenous Art: New Media and the Digital. Public: Art, Culture, Ideas 54, winter 2016, p. 36-49.