Reframing Practices: Why Naming Matters
by Sarah England
December 6, 2018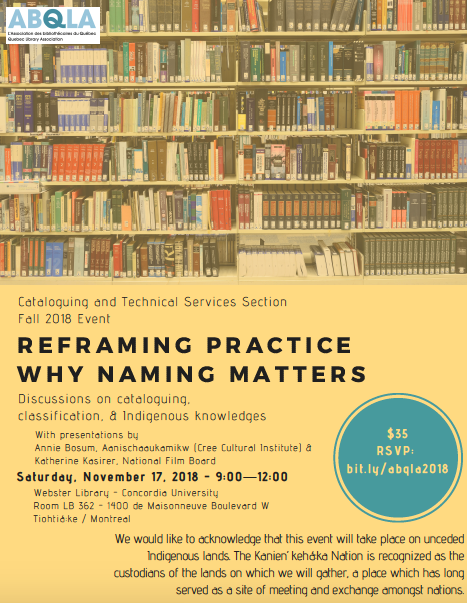 In mid-November, the Quebec Library Association (ABQLA) hosted a discussion on cataloging, classification and Indigenous Knowledges at Concordia's Webster Library entitled "Reframing Practice: Why Naming Matters." As AbTeC begins to set up the database for the Aboriginal New Media Archive (discussed in an earlier post), issues regarding the classification and cataloging of Indigenous materials are pertinent to our project. This post summarizes the event in connection with AbTeC's archives.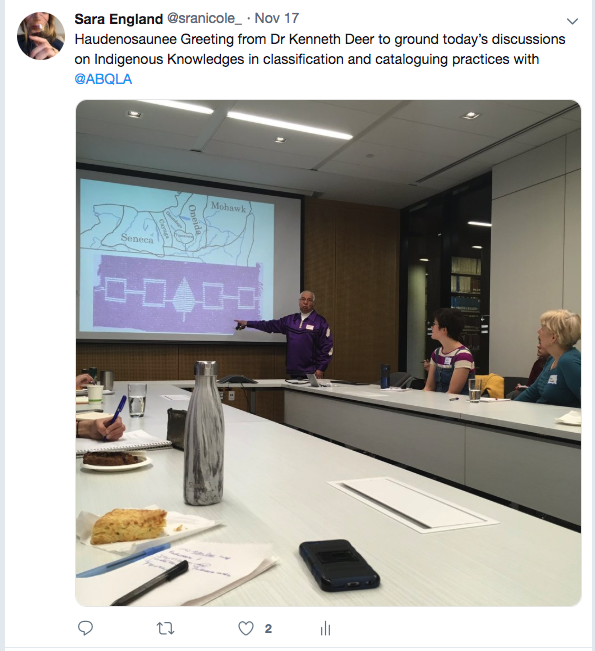 Recently, institutions and Indigenous communities have been developing protocols and strategies for institutions holding Indigenous materials. This, in part, is the result of the Truth and Reconciliation Committee's call to action in 2015 which called upon "the federal government to undertake a "national review of archival policies and best practices" in collaboration with Aboriginal peoples.[1] The Committee on Indigenous Matters at Canada Federation of Library Association recommended library systems address "structural biases […] arising from colonialism […] [by] committing to integrating Indigenous epistemologies into cataloguing praxis and knowledge management."[2] This recommendation was coupled with calls to "recognize and support indigenous cultures and knowledges," "enhance opportunities for Indigenous library, archival and information professions" and implement "Indigenous Knowledge Protection protocols and agreements […] to respect the Indigenous cultural concept of copyright."[3]
It is clear that Western systems of knowledge management do not adequately describe Indigenous archival materials. This inadequacy, as Hannah Buckland described in her presentation, is expressed in the Library of Congress' subject headings. For example, the Library of Congress uses the subject "American Indian — folklore" to categorize Indigenous Peoples' cultural knowledges and storytelling. The subject heading, as Buckland notes, reinforces the colonial mystification and mythologization of Indigenous peoples and their cultures. Descriptive metadata of this kind is not only inadequate, it is a form of colonial inscription that serves to legitimize and reinforce existing biases that, historically, repeat the troubling roots of archives as part of the dispossession of Indigenous' cultures, land, and languages. Libraries and archives have a responsibility to address how their institutions are implicated in colonial histories and knowledges and pave a new path forward in which the support of Indigenous knowledges and cultures is prioritized.

Descriptive metadata, subject headings and the ways in which cultural knowledge is accessed and deployed need to be determined by and in consultation with the communities whose cultures and materials are being represented. Buckland, currently the Service Manager at Hennepin County Library and the former Director of Library Services at Leech Lake Tribal College in Minnesota, Buckland spoke about the need for librarians and archivists to use metadata as a form of microaggression to work against existing biases and power structures within library classification.
Indigenous librarians and archivists have implemented new cataloging and classification systems that reflect their cultures and communities. Presenters Camille Callison (Learning and Organizational Development Librarian at the University of Manitoba) and Annie Bosum (Library Technician at ᐋ ᑎᐹᑐᑖᒡ ᐋᓂᔅᒑᐅᑲᒥᒄ, Aanischaaukamikw, Cree Cultural Institute [http://creeculturalinstitute.ca] in Oujé-Bougoumou) shared their respective adaptations of the Brian Deer Classification System (BDCS) to develop a more accommodating system for nations across the continent and, in Bosum's case, at a local level. The Cree Cultural Institute updated the BC-focused BDCS to include more Cree dialects. They also removed the provincial parent heading as a category for organizing dialects because dialects do not neatly correspond to regions.

Callison, on the other hand, is doing this work through her participation in the Canadian Federation of Libraries Association's Indigenous Matters Committee, a committee formed to advance and implement meaningful reconciliation as addressed in the Truth and Reconciliation Final Report and in the Calls to Action. The committee developed the Indigenous Materials Classifications Scheme (IMCS), a system based on the BDCS that will eventually be free and online for libraries and archives to adopt!
The IMCS was employed by the National Film Board in their Indigenous Cinema online collection, a project developed in consultation with Callison. Katherine Kasirer, Librarian at the NFB, discussed the project's development and the NFB's history of Indigenous filmmaking and films with Indigenous content. Through the project, the collection's one access point for Indigenous content expanded to include 18 Indigenous subject headings and a searchable index of nations organized from East to West rather than in alphabetical order. This organization is part of the IMCS, and one of the ways Indigenous epistemologies in archives are enriching researchers' interpretations and experience of data. In this case, spatial knowledge is built into the system and offers another layer of information and exploration not provided by alphabetical ordering.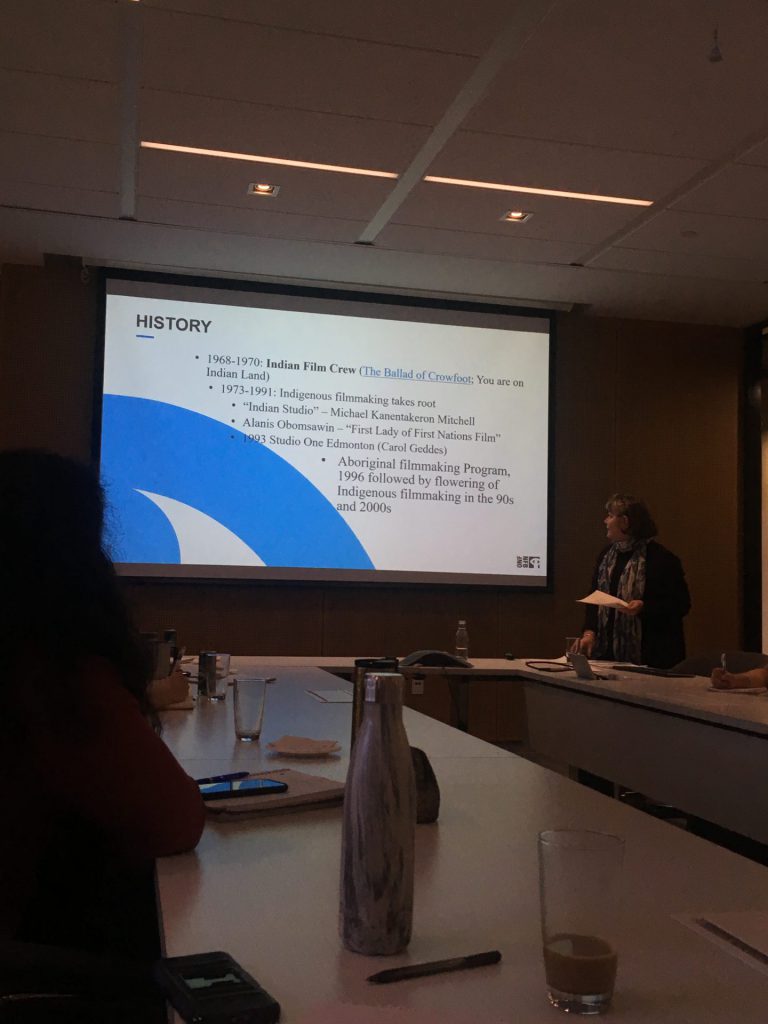 Dr. Kenneth Deer from the Mohawk Nation of Kahnawake opened the morning's discussions with Ohén:ton Kariwatéhkwen or Thanksgiving Address, the Haudenosaunee ceremony to bring our minds together as one and give thanks to the natural world. This process of beginning with words to guide intentional actions is a fitting way to begin discussions on how description and organization in cataloguing and classification practices give way to anti-colonial actions in which Indigenous cultures and knowledges are supported, not just in archives and libraries, but in the research projects they inspire, educational programming and their local communities.
The discussions that took place at "Reframing Practice: Why Naming Matters" will help guide our consideration of naming conventions and knowledge organization in AbTeC's archives, and the eventual Aboriginal New Media Archive. As we head into a new year, 2019 will bring more archive team members and consultants to develop protocols for the archives and the launch of new public initiatives that promote Indigenous archives and archiving practices. Stay tuned!
Sources
[1] Truth and Reconciliation Commission of Canada, "Calls to Action," 2015, accessed December 4, 2018. Updated March 12, 2019. http://www.trc.ca/websites/trcinstitution/File/2015/Findings/Calls_to_Action_English2.pdf
[2, 3] Indigenous Matters Committee, "Mandate," accessed December 4, 2018. http://cfla-fcab.ca/en/about/committees/indigenous_matters_committee/