Recording Indigenous New Media History on Wikipedia
by Sarah England
April 26, 2019

On Thursday, March 14th, Indigenous Futures Cluster presented our first-ever Wikipedia Edit-a-thon! The event was hosted at Milieux Institute for Arts, Culture and Technology and supported by Art + Feminism and Wikimedia Canada.
The Indigenous Futures Cluster Wikipedia Edit-a-thon focused on the improvement and creation of Wikipedia content about Indigenous new media artists in North America and the Pacific. We provided tutorials for beginner Wikipedians, supported and researched materials for editing Wikipedia articles and, in particular, built capacity for Indigenous participants to manage and determine how their cultures and communities are represented in cyberspace.
Why an Edit-a-thon?
Wikipedia is an online encyclopedia populated by users (usually on a volunteer basis) who edit and generate its content. Anyone can become a Wikipedia editor–you just need a username and password—and can add, change or remove content to an existing article or create a new article from scratch. It can be a wonderful platform to promote knowledge-sharing, empower people to participate in knowledge-making and open access to information.
However, the content on Wikipedia reflects the interests of its users—a demographic of mostly white, English-speaking men in North America. According to Wikipedia's Writing About Women page, as of 2016, only 8.5 to 16.1 percent of editors on English Wikipedia are women. This underrepresentation of women, people of colour, Indigenous peoples, and LGBTQ+ identified in the makeup of Wikipedia's editors skews the platform's content and reflects existing social biases. (For more on this see Wikipedia's pages on racial bias and gender bias. Wikipedia's Racial bias on Wikipedia page acknowledges the lack of Black history on Wikipedia due to articles predominantly being written by white editors.)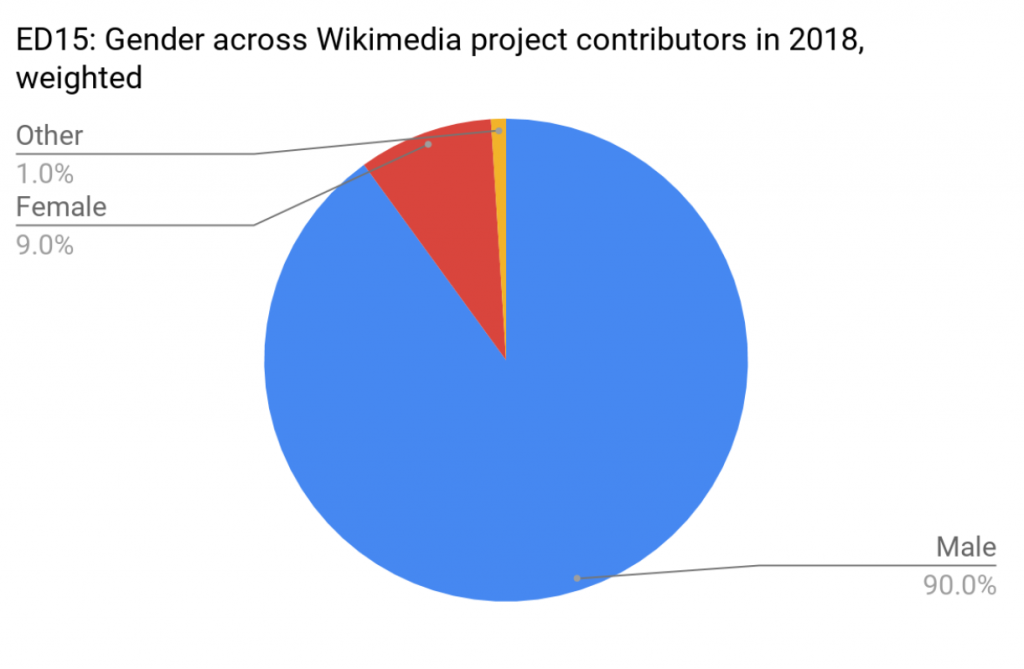 We organized the Wikipedia Edit-a-thon knowing that Wikipedia lacked both content about Indigenous cultures and communities, and content written by Indigenous editors. We wanted to contribute to rectifying that by recruiting Indigenous people and allies to become Wikipedia editors and use the platform to support Indigenous cultures and communities through knowledge-sharing and -creation.
Why address Indigenous New Media History?
As a research cluster dedicated to Indigenous digital media research-creation, we know that the rich history of Indigenous digital art practice has been poorly documented and largely ignored in art historical texts (though there are people working to resolve that!). Despite this historical absence, Indigenous artists have been at the forefront of experimentation and innovation in media and digital art practices for the past two decades. In Rudi Aker's interview with the Kahnawake radio station K1037 about the edit-a-thon, she addressed this lack of documentation using the example of multidisciplinary artist Adrian Stimson, who was awarded the prestigious 2018 Governor General's Award in Visual and Media Arts—he did not have a Wikipedia page! There are many examples of notable Indigenous artists working with digital technologies whose histories remain underrepresented and unacknowledged. We compiled a list of these artists and during the edit-a-thon, we updated their existing Wikipedia pages or created new ones!
What did we do?
Amber Berson, ambassador for Art + Feminism and Wikimedia Canada, led a tutorial about how to edit in Wikipedia and helped us feel comfortable with the platform. Following Amber's tutorial, Dr. Greg Younging, a member of the Opaskwayak Cree Nation in northern Manitoba and author of Elements of Indigenous Style: A Guide for Writing by and about Indigenous Peoples(2018), gave a Skype presentation about methods for writing about Indigenous peoples and cultures respectfully and appropriately. Dr. Younging's book is the first style guide dedicated to Indigenous content for editors and publishers to use, alongside their chosen in-house style manuals, to responsibly publish Indigenous literature. After we were nourished and hydrated with some lunch, we applied Younging's principles to our communal editing session!
Prior to the Edit-a-thon, Research Assistants Charissa Von Harringa and Rudi Aker identified some of the gaps in information about Indigenous new media artists on Wikipedia and compiled a list of articles for editing and creation. They also gathered resources from the web and pulled literature from AbTeC/IIF's library to use for research. Our list of tasks was then added to our Event Dashboard for editors to browse and assign themselves projects. The Dashboard will remain active for a year so we can track our edits and continue to work as a group.
By the end of the day, we had made over 60 edits, edited 17 articles, and added 4,510 words to Wikipedia! Pages for artists including Raven Davis, Pia Arke and Amanda Strong were improved with more citations, copy edits, infoboxes, and lengthier edits such as the creation of new sections. A page was created for Cree and French Métis theorist, curator and artist Âhasiw Maskêgon-Iskwêw, one of the most prominent figures in Indigenous new media art. Now a record of his career exists on Wikipedia to help document his legacy.
Ready to Edit?
Excited about our project and want to participate? Create a Wikipedia account, check out some online resources, join our Dashboard and start editing!