An Open Letter to Michèle Audette, Commissioner for the National Inquiry into Missing and Murdered Indigenous Women and Girls
by Skawennati
April 28, 2017

Nia:wen to AbTeC for allowing me to post here. It was a bit too long for a FaceBook post.
A couple of months ago, I was invited by Ondinnok to do a curtain raiser. In theatre, that's a short performance before the main show. Catherine Joncas, director of Montreal's first Indigenous theatre company, said she wanted to respond to Montreal's 375th celebrations with some reminders that Indigenous presence in this place dates much longer than that. She organized an entire series called "5 minutes pour que je te dise" or, in English, "5 minutes so I can tell you"
As soon as I had heard that Michele Audette would be a Commissioner, I wanted to write her a letter.  I took this opportunity to do so. I simply stood in front of the audience, gave a brief introduction, and read it (slightly shortened, as I went way over 5 minutes!) in French. Merci to Karina Chagnon for her careful translation.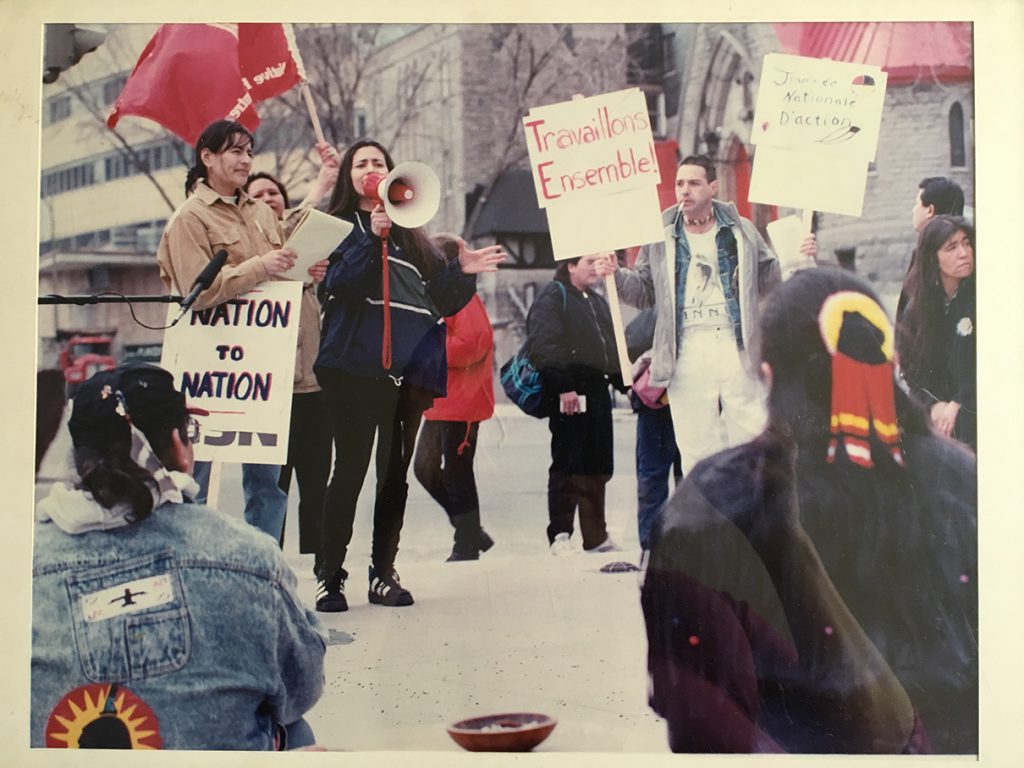 Skennen sewakwekon, Skawennati iontiats.
Bonsoir tout le monde, my name is Skawennati. I am a Kanienkehaka (Mohawk) of Kahnawake and am of the turtle clan. My mother is Brenda Dearhouse and my father is Luigi Fragnito. I wish to share with you a letter I have written to Michèle Audette, commissioner for the National Inquiry into Missing and Murdered Indigenous Women and Girls.
Dear Michèle,
How are you? It has been many moons since we last spoke. I have seen in the news that you have been active, as usual! I was thrilled to learn that you would be one of the commissioners for the inquiry on the missing and murdered Indigenous women.
I have this great photograph of the two of us. It was taken in 1997, I think. We already had known each other for a couple of years. While working the Centre d'Amitie Autochtone, I had organized a march for the Journée National d'Action. I believe you were the president of Quebec Native Women at the time, and I asked you to be one of the speakers. Though I don't remember what you said that day, I remember that you addressed the crowd in French, and I translated your words into English. I did not notice another friend, Jamie Riddell, taking pictures, but several weeks later, he gave me this photo. In it we are standing side by side, a team surrounded by our community. I hold a megaphone to my mouth, making sure your words reach the whole crowd.
I am writing today with my thoughts about why Indigenous women are disappearing.
Like me, you are the daughter of an Indigenous mother and a non-Native father. Like me, you understand how the Canadian government, through its legal system, has been complicit in the deaths of Indigenous women. Even us.
As you know, it was the Indian Act, enacted in 1876, that stripped Indian women of their status if they married non-Native men. The children of these marriages, likewise, did not have Indian status. (Of course, you also know that the converse was not true: Indian men who married non-Native women did not lose their status; Not only that, their wives gained status, and so did their children.)
Today we know that this law was meant to disrupt the matrilineal system, and, by extension, Native societies.
In effect, this law legally killed Native women, and their children. It sent a strong message across the land that Indigenous women needed to be eliminated in order for Canada to survive.
In 1985 Bill C-31 reinstated those women like our mothers, and their children. Finally, Michel, you and I were Indian in the eyes of the Federal government.
However, that amendment to the Indian Act was unable to change the original message: that Native women have no value, and should disappear.
In Kahnawake, where I was born, the Band Council refused to put my mother, myself and my siblings, on their membership list, stating that the Mohawk tradition is "Marry Out, Get Out." But Mohawks, like the other five nations of the Iroquois confederacy, are supposedly a matrilineal society. Traditionally, when an Iroquois man and woman married, the husband would go and live in the wife's longhouse, with her mother and sisters. Still today, clans are passed on through the mother. That tradition of "Marry Out, Get Out" started with the Indian Act.
In 48+ years since her wedding, my mother has witnessed families turning their backs on their daughters, sisters and aunties. She, and women like her, were told by their community that they were no longer wanted nor welcome in the community they had belonged to since birth. One band councilor even had the nerve to say to her group that if they wanted their status back, they should kill their husbands! Words and actions like these, have communicated to my mother, and me, that we were expendable, disposable, worthless.
Michèle, there is no doubt in my mind that this behaviour is connected to the crisis of the missing and murdered Indigenous women in this country. It is a direct legacy of Canada's deliberate attempts to target Indigenous women in their goal of "killing the Indian".
My old friend, fellow warrior, now you have the megaphone. And I am still right beside you, as I was 20 years ago. Nia:wen. Thank you for taking up this fight. I know you will make sure my words are heard.
With love and respect,
Skawennati