Unboxing Skawennati's Mannequin!
by Dion Smith-Dokkie
June 20, 2019

Last week we unboxed a beautiful pink, pregnant mannequin! It was the latest installment of a project that began with the 2017 machinima, She Falls For Ages.
Throughout 2018, Skawennati worked with a team of AbTeC/IIF Research Assistants to create a cosplay version of Otsitsakaion—also known as Sky Woman—from She Falls for Ages. The 2017 machinima is a sci-fi retelling of the Haudenosaunee Creation Story, in which Sky Woman falls from Sky World and creates our world. In her recent work, Skawennati explores material practice in relation to its virtual counterparts—what does it mean to create physical objects that exist in digital worlds?
To delve into this research, she enlisted the help of Producer Nancy Elizabeth Townsend, and Research Assistants Suzanne Kite, Kahentawaks Tiewishaw, and Valerie Bourdon. At the Milieux Institute in the Textiles and Materiality Research Cluster's space, the team worked together weekly creating and modifying patterns, programming digital embroidery on the amazing Tajima machine, and developing hair and make-up. After months of prototyping and construction, Otsitsakaion's dress was successfully transformed from the digital form into real life!
Undergraduate Research Assistant Kahentawaks Tiewishaw was the first to don the costume when she premiered it at the 2018 Indigenous Comic Con in Albuquerque, New Mexico!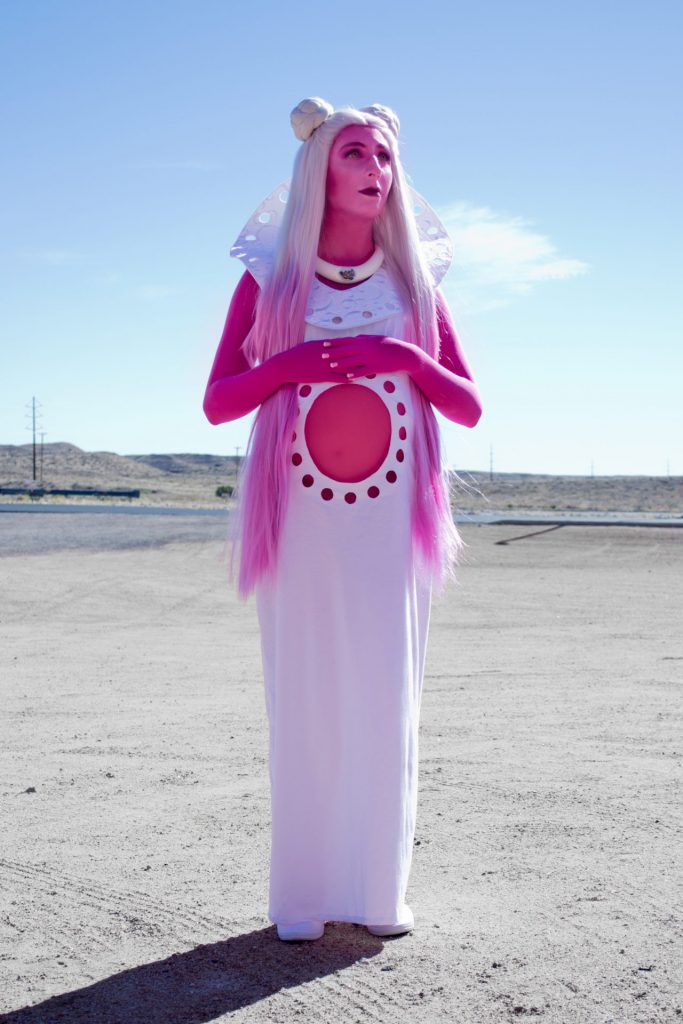 Since then, Skawennati has engaged IIF Artist-in-Residence Dayna Danger to photograph her wearing the Otsitsakaion costume for a project not unlike the 2015 Dancing With Herself, which first appeared in The Rebel Yells exhibition at the FOFA and later in Tomorrow People at OBORO.
The new mannequin was custom-ordered and took 14 weeks to get here—half of the time it takes a baby! Watch Skawennati and Nancy unbox it in this video.
You can watch the machinima, She Falls for Ages, on Skawennati's website.