Skins Workshop Series Retrospective
She:kon! With a new Skins workshop just around the corner it seemed like the perfect time to take a look back on the history of the workshop.
The Skins workshops bring Indigenous storytelling to experimental digital media. During the course, a group is taught skills such as game design, art direction, 3D modeling and animation, sound, and computer programming. In a deeper sense, students learn about the relationship between their contemporary culture, media and cultural productions, and technology. The students then work together to make a video game. The goal is to empower our youth to be producers of digital media, not just consumers.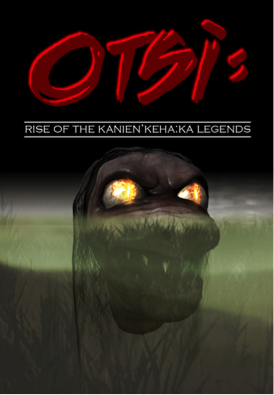 Skins 1.0 started all the way back in 2008! It's almost the ten year anniversary of the Skins workshops. The first one took place at Kahnawake Survival School, the high school on the Kahnawake Mohawk Territory, from September 2008 to June 2009. Owisokon Lahache is an artist, teacher and a source of cultural knowledge that greatly benefits the Skins Workshops as she helps to guide participants. Her art class created Otsì:! Rise of the Kanien'kehá:ka Legends over the school year. The game is based around local stories that the students knew and wanted to work with.
The path from brainstorming to a game starts with sharing stories. Participants also discuss what could be transformed into a fun game and what some realistic expectations are. Once a story is chosen the planning for the game begins! Making a paper prototype helps to visualize the setting and layout of the game. What do we need? Who will work on what? All the answers to those questions are found in something called an asset list. Through the process participants work with a team that helps them learn how to create what they have hiding in their heads. A lot of planning, learning and hard work get poured into each game.
Otsì:! is a mod (modification, for you non-gamers) on the Unreal first-person-shooter engine. The game starts with the player as a warrior in the woods. A narrator tells the story of a village that divided into two and the monstrous Flying Head that came from this event and terrorizes the people. The Skins 1.0 team envisioned multiple levels where you would face various creatures from our legends, like the Hoof Lady, and the Monkey Dog. In the end, they created what is known in the game industry as a "vertical slice" –basically a taste test of the game. In one level, we fight the zombie-like tree people. Very creepy! In another, we confront the terrifying Flying Head with the knowledge given to us through the narrator. It was a great start for Skins as Otsi:! won the Best New Media Award at the 2010 imagineNATIVE Film and Media Arts Festival.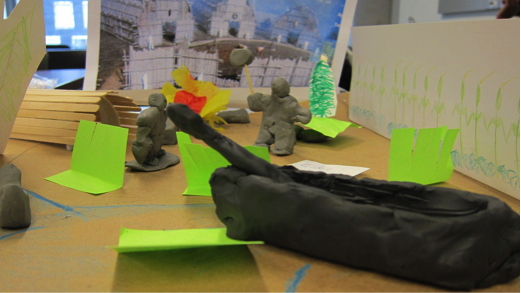 Skins 2.0 brought the students and the workshop to Concordia University, allowing the students to get a feel for the university environment. This workshop took place over 14 days in July 2011 and brought together game-industry professionals, Indigenous artists and mentors, and a team of Concordia Computation Arts undergrads.
In this game, the player controls an Iroquois youth named Skahion:hati who is a bit of a braggart. When the legendary Stone Giant threatens his home, his elders call his bluff and send Skahion:hati to face him. The player begins by longhouses and a river; if you don't feel sure about where to go follow the flow and take a leap of faith. Gifted with resistance to falling, Skahion:hati can make great leaps in his fight –however beware water as he isn't much of a swimmer! Navigate the battlefield to scoop up the Stone Giant's spit to use against him and keep your village safe.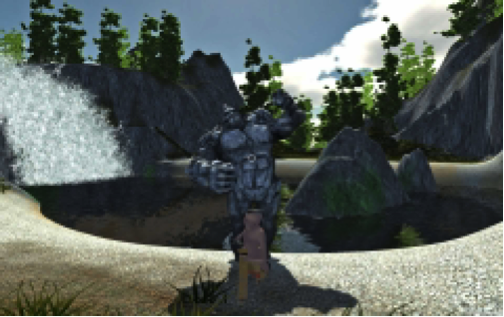 Skins 3.0 responded to the desire of participants from Skins 1.0 and 2.0 to complete their games. Every two weeks from March until July participants met at Concordia University to work on combining their games to make one finished product. There were also two full-day intensives held. The result of all this hard work was Skahiòn:hati: Rise of the Kanien'keha:ka Legends which won the Best New Media Award at the 2013 imagineNATIVE Festival.
The game opens with a cut-scene that explains the dire situation the village is in. A man and his brother have seen a Stone Giant! The brother died so that this man could warn the village to flee but the elder is determined that they need to take a stand. The player controls Skahiòn:hati as a youth, who is given the mission of fighting the Stone Giant after boldly declaring the he is ready. There are pieces of history and info bits woven through the longhouse that the player can read as they prepare for their fight. A short journey requires keen hearing and bravery to find the Stone Giant. Once it is defeated the game jumps forward and Skahiòn:hati is a seasoned hunter who has been working to fight strange and terrifying creatures to protect his village. There is a fire in the distance and zombie-like tree people stand in the way. At the village, history is shared on the fate of this village and Skahiòn:hati's and he receives a warning. Skahiòn:hati will need to use fire to defeat the Flying Head but flaming arrows are not enough! It's up to the player to return to his village and defeat the monster once and for all.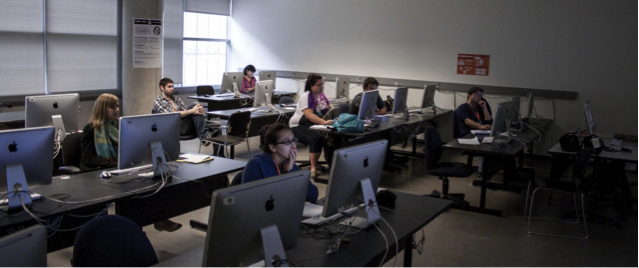 Skins 4.0 was a three-week intensive workshop that took place from May until June 2013 at Concordia University. Participants from Kahnawake and Akwesasne came with varying levels of knowledge that benefited the game-industry roles they took on. (For you game nerds: this time we used Construct 2 rather than Unreal). I'm biased as a Skins 4.0 participant but I think this is the best game so far 😉
Ienién:te and the Peacemaker's Wampum featured a female lead and a story inspired by Indiana Jones. Ienién:te returns home to her reserve from university to find that someone has stolen a sacred artifact to use for evil. It's up to the player to find her tools, sneak, solve puzzles and fight the final boss –a strange old man that turns out to be (SPOILER ALERT!) her archaeology professor!
My experience with Skins was fantastic! I was able to practice new skills and ones that I'm proud of and see what I'm capable of under a tight schedule. I worked on cut-scenes, poster art, character design, modeling and animation. The main story point I wanted to push was having a female lead and the team was more than happy with the idea. I was able to test my social awkwardness and explore Concordia University where I now study. The main thing that I took away from the experience was the knowledge that creating something that has an infusion of my culture doesn't mean it has to be boring, obvious or preachy as I believed. It can be just as natural, fun and focused as any other culture I had experienced in games and art before. I just had to open my eyes to that first.
We are excited to bring the video game workshop to an Indigenous community far away and to see what our new friends in Skins 5.0 will create!