Seven Generations Assemble! Skins Future Character Design Workshop with KSS
by Maize Longboat
June 27, 2018

Location: Kahnawake Survival School, Kahnawake, QC
Date: March – May 2018
Duration: 5 sessions of 2 hours
Facilitators: Skawennati, Jason Edward Lewis, Nancy Elizabeth Townsend, Dominick Meissner (Behaviour Interactive), Vivian Herzog (Behaviour Interactive), Kahentawaks Tiewishaw, Raymond Caplin, Maize Longboat
Overview: In five lessons over two months, nine students from the Kahnawake Survival School were asked to imagine their future descendants and design a character with paper and pencil to be printed as a 3D model. They were taught the basics of 3D modelling, UV maps and texturing 3D objects, and how to rig and pose their 3D characters. The workshop concluded with a showcase of their printed characters.
The Initiative for Indigenous Futures (IIF) and Kahnawake Survival School (KSS) just wrapped up a two-month long Skins Seventh Generation Character Design workshop with nine highschool youth from Kahnawake. This edition of the workshop was particularly special, as participants were not only able to conceptualize their seventh generation descendant using paper and pencil, but they also produced a digital model of their characters that was 3D printed into figurines that they could take home.
The workshops were organized by Owisokon Lahache, a teacher at KSS as well a long-time AbTeC collaborator and IIF partner. The workshop itself took place over three months (March-May 2018) at KSS with lessons held semi-weekly. Many IIF staff and research assistants were involved in organizing and instructing the workshop, including newcomers Kahentawaks Tiewishaw (3D Modelling/Posing) and Raymond Caplin (Texture/UV Maps). Ray and Kahentawaks were instrumental in writing and teaching the technical software to the participants.

Day 1 – Character Design for Videogames
The workshop kicked off in late March with presentations from Lead Creative Director Dominick Meissner and Lead Character Artist Vivian Herzog of the Montreal-based videogame company (and IIF partner) Behaviour Interactive. Dominick spoke about the iteration process that videogame characters regularly go through and showed character prototype designs for an upcoming Assassins Creed mobile game. Vivian showed her artist portfolio that contained gorgeous character portraits and spoke about her role as a character artist working at a videogame company. The workshop participants asked questions about what skills were needed to be a game developer and left the first day with an idea of what it would take for their character to transform from an idea to a printed figurine.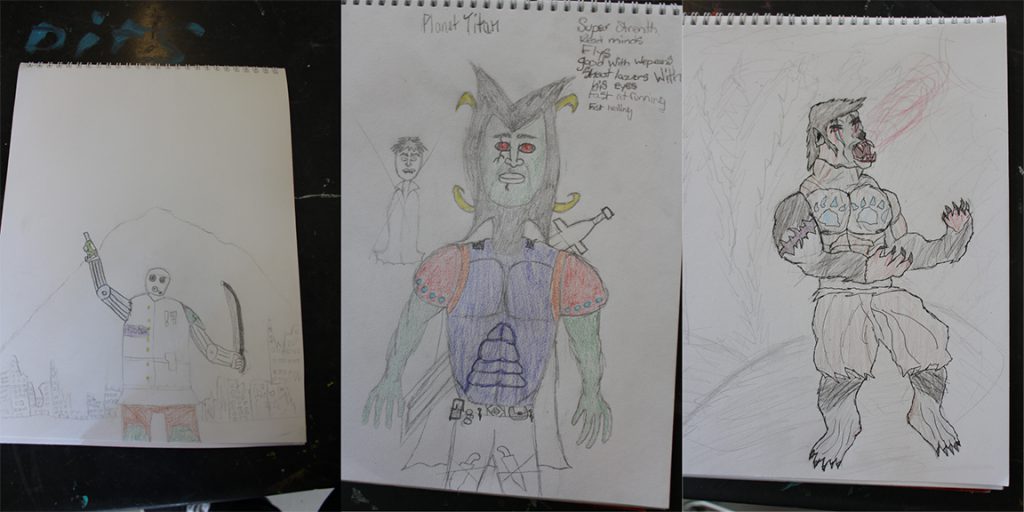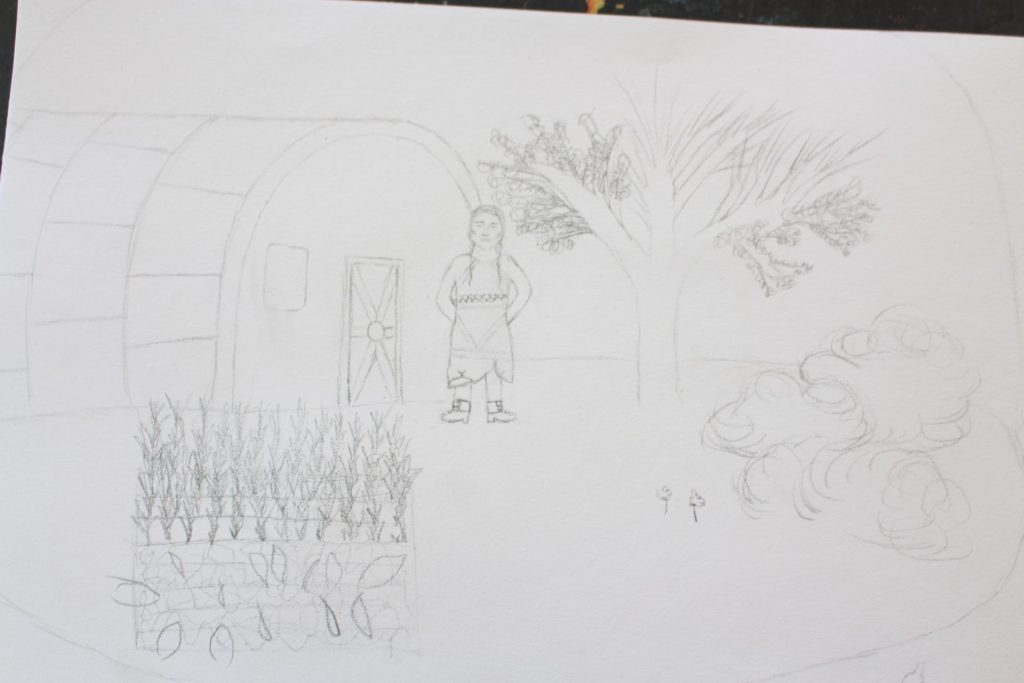 Day 2 – Seventh Generation Character Design
Our second meeting was when the work of imagining began! IIF Partnership Coordinator Skawennati and research assistant Maize Longboat lead a presentation about what the Seventh Generation Character Design workshop aims to achieve: to envision our descendants seven generations into the future and to make space for Indigenous presence in sci-fi. Participants were shown past character designs from the first edition of the workshop at Dechinta Bush University, as well as IIF research assistant Suzanne Kite's sketches that informed the conceptualization of her multimedia performance art piece Listener. After the presentation participants got to work on their own characters and discussions of the future ensued. By the end of the drawing and sharing session everyone had an idea of who their character was, how they lived, what languages they spoke, and what their worlds looked like.

Day 3 – Intro to 3D Modelling and Blender
On the third day of the workshop participants finally got to work on their characters using Blender, a free open-source 3D modelling software. Kahentawaks spent the week in-between workshops creating a generic character model as a template for everyone to work from. First they learned the basics of how to manipulate vertices, edges, and faces to make unique shapes in Blender. They then practiced their skills by editing the proportions of the template character model and add one-of-a-kind features that they wanted their future characters to have.

Day 4 – Intro to UV Maps, Textures, and Photoshop
Ray took the unique character models that were created during the 3D modelling lesson from the previous lesson and layed their surfaces out flat to create UV maps for each character in the time leading up to day four of the workshop. UV maps are used during the texturing phase of character creation to turn a colourless character into one with detail and personality. The lesson began with an introduction to Photoshop and how its tools can be used to add surface detail to character models by painting and blending colours. Participants were given their character's unique UV maps and began the work of colouring them in. As the day came to a close, Ray and Kahentawaks demonstrated how to take the UV map file and lay it over the model in Blender. Only one more step to go: posing!
Day 5 – Pose for Printing
Up until this point everyone's characters were standing in a t-pose with their arms outstretched to the side and legs straight. Kahentawaks and Ray's final lesson was dedicated to changing this by having the participants manipulate the virtual bones of the 3D character models in Blender. Posing can be particularly tricky to do when the characters' limbs need to be in realistic positions while also being unique enough to show their personality. They also needed to fit on a circular figurine base to make sure that they would be able to stand without falling over.
And with that the working part of the workshop was over! The participants parted ways with digital versions of their characters and would see them again in their physical, 3D-printed forms very soon.

Showcase!
Two weeks later the characters born and nine perfectly shaped, coloured, and posed character figurines from seven generations in the future arrived in the mail from the 3D printing company! KSS organized a public showcase of the characters to celebrate the hard work of the participants and instructors. After folks mingled and viewed the characters, Owisokon welcomed everyone to the event and explained her motivation for initiating this workshop. Skawennati and IIF Primary Investigator Jason Edward Lewis then introduced themselves and the team involved in making sure the workshop was delivered successfully. The participants then introduced themselves and offered reflections on their creation process from start to finish, noting the value of doing the work of imagining their future Indigenous descendants.

It is important to note that Kahentawaks was a student in the very first Skins Workshop, which ran from September 2008 – to May 2009 at KSS. We are very excited that, ten years later, she has become an instructor for the newest generation of Indigenous artists and designers.

A big niawen:kowa to Owisokon Lahache and Kahnawake Survival School for your work in organizing and hosting this edition of the Skins Seventh Generation Character Design workshop.
Seven Generations assemble!