iNdigiplay Arcade
Santo Aveiro-Ojeda
December 1 – January 5 2020
Hosted by: Imaginative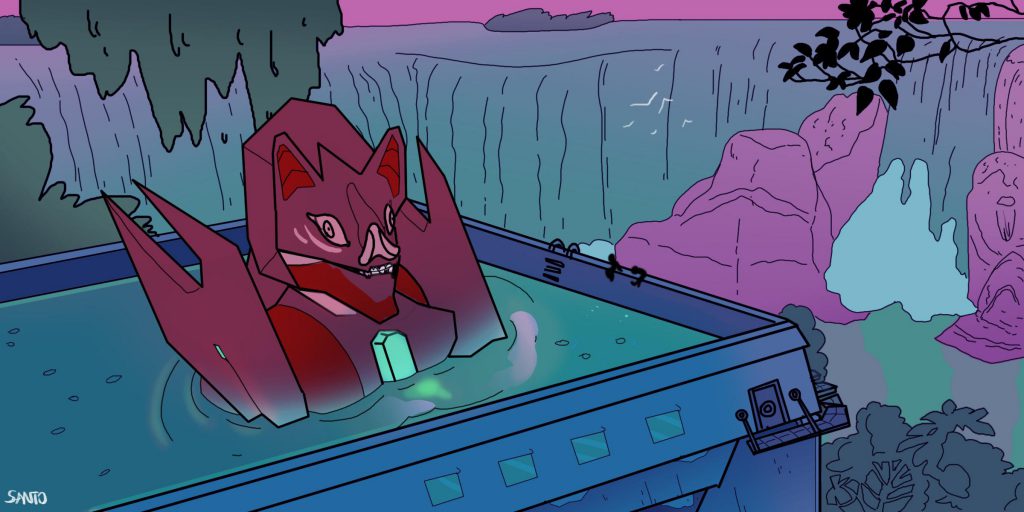 Santo Aveiro-Ojeda took part in a joint residency presented by IIF, imagineNATIVE, and The Hand Eye Society.
Bio
Santo is an artist, speaker, and gamemaker. They create work based around expressions of Brujeria and ancestral traditions. Their 2019 game, Don't Wake the Night, is a 2D point-and-click game funded by the Ontario Art Council's Emerging Media Artist grant and the Toronto Arts Council Media Artist grant inspired by and based on concepts of spirituality from Guaraní teachings.
Santo is also a co-director at Dames Making Games, a non-for-profit arts organizations dedicated to supporting non-binary and women creators in making, playing, and changing games. Santo has been featured as a speaker at conferences such as ECGC in Raleigh, Game Developers Conference in San Francisco, Different Games in New York, and IndieCade in LA. Their games and work have been exhibited at places like the aluCine festival in Toronto, the Queerness and Games conference in LA, AltCade in Portland, and the Fully-Automated Luxury Gender Oasis in Dublin, Ireland.
Residency Highlights
iNresidence is a new residency program at imagineNATIVE where a selected Indigenous artist is supported to explore their proposed intellectual and artistic expressions over a three month period.
For the first iteration, imagineNATIVE partnered with Hand Eye Society and the Initiatives for Indigenous Futures to host Santo Aveiro-Ojeda from September to November 2020 while they curated iNdigiplay Arcade, an exhibition of five Indigenous games and playful experiences on the iNdigital Space December 01, 2020, to January 05, 2021. To visit the exhibition, check out the iNdigital Space!
While iNresidence, Santo focused on research around connecting indigeneity with cyberpunk aesthetics to show how the two complement each other narratively with themes of transgression and Indigenous futurisms. Cyberpunk is a genre of storytelling that, while based on elements of resistance, often prioritizes colonial worldviews. By deconstructing cyberpunk to fit with Indigeneity, a more decolonial lens will be applied to iterate on this genre. To read further about their research around Indigenous Cyberpunk, check out their public findings CybeRRRevolution. Santo selected five artists/collectives that were exhibited on the imagineNATIVE online iNdigital Space from December 01, 2020 to January 05, 2021. Since Tuesday, December 01 at 7:00 pm EST, Santo has been hosting a series of free and public artist talks throughout the exhibition. You can hear their interview with Maize Longboat and Ray Caplin, two IIF team members, about Longboat's game Terra Nova, here!
Partners
imagineNATIVE is the world's largest presenter of Indigenous screen content. The organization is recognised locally, nationally, and internationally for excellence and innovation in programming and as the global centre for Indigenous media arts. imagineNATIVE is a registered charity committed to creating a greater understanding of Indigenous peoples and cultures through the presentation of contemporary Indigenous-made media art including film, video, audio and digital media.
The Hand Eye Society is a Toronto not-for-profit dedicated to supporting and showcasing videogames made primarily as a form of creative expression. They aim to provide exhibition opportunities, education, creative support, mentorship, knowledge sharing and inspiration to artists, enthusiasts and the game-curious in Toronto. Founded in 2009, it is one of the first videogame arts organizations of its kind in the world.
Funders
iNresidency is supported by imagineNATIVE through the Initiatives for Indigenous Futures and iNdigiplay Arcade is co-presented by imagineNATIVE and Hand Eye Society through the Ontario Arts Council (Hand Eye Society).