Our Team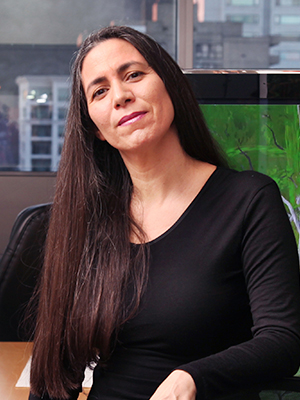 Skawennati
Partnership Coordinator
Concordia University
Aboriginal Territories in Cyberspace's Initiative for Indigenous Futures
Skawennati is recognized as a pioneering New Media artist. Her work addresses history, the future, and change from her perspective as an urban Kanien'kehá:ka woman and as a cyberpunk avatar and has been exhibited internationally. Her work is included in the collections of the National Gallery of Canada, the Musée d'art contemporain de Montréal, and the Canada Art Bank, among others.
In the early days of the Internet, she conceived of and organized CyberPowWow (1997-2004), the Aboriginally-determined, on-line gallery and chat space. This work is a direct ancestor to AbTeC.
Born in Kahnawake Mohawk Territory, Skawennati graduated with a BFA from Concordia University in Montreal, where she is based. She is Co-Founder and Co-Director of Aboriginal Territories in Cyberspace (AbTeC) and the Partnership Coordinator of IIF.  Please visit www.skawennati.com to learn more.