Our Team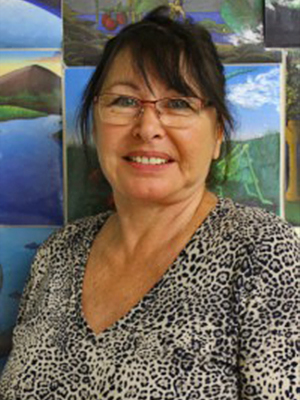 Hilda Nicholas
Partnership Representative,
Kontinónhstats – Mohawk Language Custodians Association (Kanehsatà:ke)
President
A passion for Hilda Nicholas is the Kanien'kéha language and her aim is to pass it on to her people, who have lost their language. Her mother tongue is Kanien'kéha and she is fluent in the Kanehsatà:ke Kanien'kéha dialect. She has over 30 years work experience in the Kanien'kéha language. She has lived all her life in Kanehsatá:ke.
Hilda Nicholas was hired by the EducationCenter under the umbrella of the Mohawk Council of Kanehstà:ke, to direct the operations of the center for a staff of 14 employees for the preservation, revitalization and promotion of the Kanien'kéha language through curriculum development written in Kanien'kéha. She published original stories, legends and history books and is the official Kanien'kéha translator for Mohawk Council of Kanehsatà:ke and the services in the community. In 2000, due to budget cuts all the Center's employees were laid off. Since then she worked alone until she secured funds to bring back an elder, who is the translator and proof-reader.
Hilda Nicholas is Director for the Cultural Center combining Language and Culture under one program. Her tenacity and spirit have allowed her to preserve these programs to operate in a climate of poor funding and lack of understanding. She is also the President of Kontinónhstats/Mohawk Language Custodian Association, not for profit, incorporated non charity status.
Under her guidance and tireless efforts organized the production of Language Day plays for seven years, which included the participation of the six Kanien'kehá:ka communities. Showcasing various talents in the Kanien'kéha language, which was very much enjoyed by all six Kanien'kehá:ka communities.
In partnership with First Voices Cultural Foundation (British Columbia) she launched a trilingual web tool at firstvoices.com. This is the first trilingual web based learning tool in the First Nations communities. This new innovative tool has brought an awareness of the value and richness of the Kanien'kéha culture and heritage, linking both people on and off Kanehsatá:ke's community. She was a consultant to Laval University for the community of Wendake in efforts to revitalize their lost language. She was consulted in how to set up curriculum development in language revitalization and conducted workshops.
"At the Woods' Edge" an anthology of the history of Kanehsatà:ke was published and 14 years later, under her guidance it was translated into French by Francine Lemay in 2010. The French version has been well received by the public, and consequently been invited to many seminars to discuss the book. This book educates the public of the correct history of Kanehsatake.