"On Time Travel" Workshop hosted by the Shattered Moon Alliance
Have you ever wanted to travel back in time?
That's a rhetorical question. Of course you have, it's a given. Perhaps you've even googled it, and come across the wikiHow page. Disappointed by the fact that travelling at the speed of light or getting ahold of a wormhole seem just out of reach, maybe you've settled for, say, watching a movie about time travel, or reading a book… Or maybe, just maybe, you've checked out a blog post like this one, which discusses a workshop aptly titled "On Time Travel" that took place in Toronto this past weekend.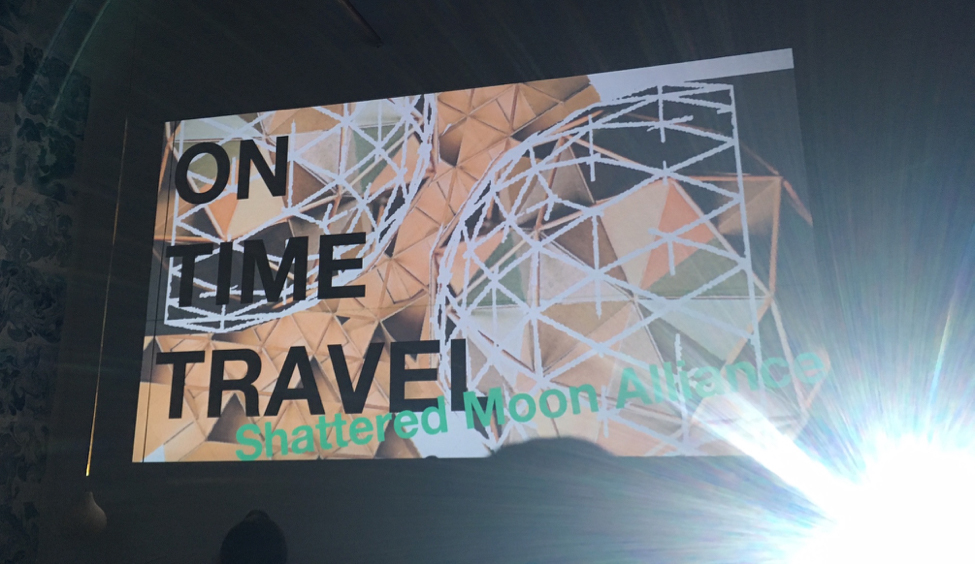 Let this post take you back to two weeks ago, when Skawennati was invited to speak at a participatory workshop as part of "A New Hope" project by the Shattered Moon Alliance. To the dismay of all involved, she was already scheduled to go to Vancouver that weekend for another talk (to everyone's further dismay, she also contracted laryngitis and wasn't able to speak for a month!). When Skawennati asked (well, typed out) if I wanted to go present on behalf of her and the Initiative for Indigenous Futures (IIF), I could not say yes fast enough.
*Cue wheezing, whirring TARDIS time travel sound effect*
The morning of Saturday, May 27th, I woke up at 6:00 AM to jet off to Toronto from Montreal. I landed safely, got on the subway, and promptly got off the subway when it shut down two stops later (thanks, TTC). I eventually made it to the YYZ Artists' Outlet, and formally met Christina Battle and Serena Lee, the creators of the Shattered Moon Alliance and "A New Hope" project, a series of workshops born from the impetus of wanting to explore science fiction worldbuilding as women of colour.
The structure of "On Time Travel" was part presentation, part discussion, and part workshop. We were joined by about ten other participants. The group began the day by conceptualizing time travel within popular culture, ranging from Back to the Future, Star Trek: TNG, Doctor Who and Groundhog Day to Arrival and Rick and Morty. We immediately started to identify some of the pervasive patterns underlying these stories. We noted in particular how time travel was almost always modelled as a physical experience facilitated by technology and mechanical engineering, and how it was often supported by a "frontier" logic of access to unexplored places and a linear understanding of time that tended to dichotomize the past and the future in a way that suggests a linear progression of modernity. The tone of this introduction was clear: we were there to dig deeper into these tropes, and to shed light on more nuanced and marginalized perspectives in order to think beyond these constructions.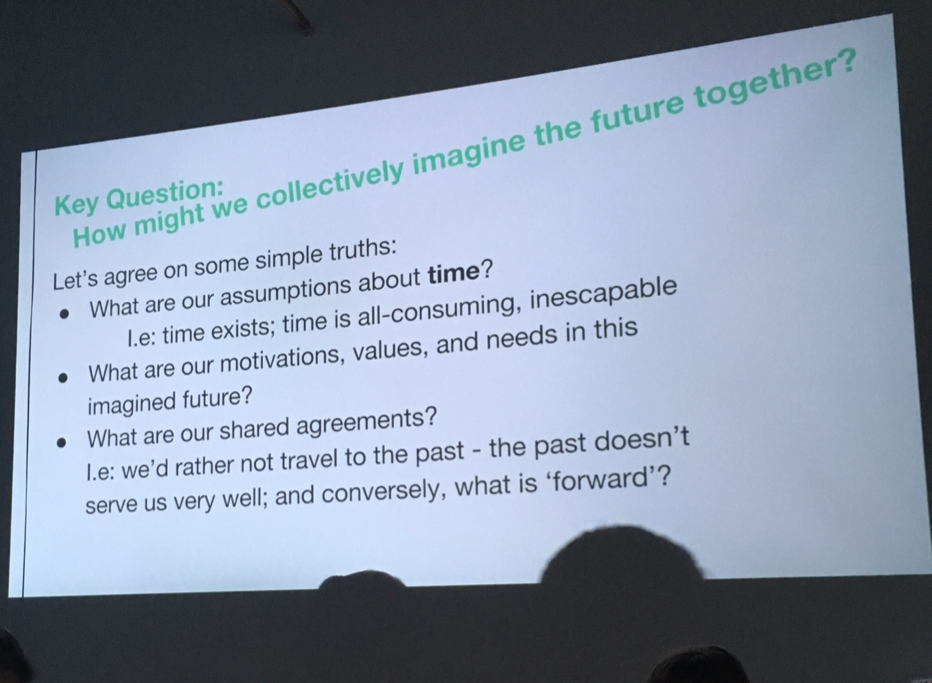 I was joined by Rayna Slobodian from York University for the presentation segment. She has been published for her research on the ethics of space colonization, specifically on Mars, as well as her ethnographic work on "star parties" and gatherings of amateur astronomers. Her presentation helped us unpack the loaded discourse embedded in the legacy of the Space Race, and recognize exactly whose values and desires are determining these visions of future space travel.
Rayna's presentation was a tough act to follow, but showcasing Skawennati's machinimas contributed significantly to the discussion by grounding the theoretical questions that had been brought up. I presented clips from Words Before All Else Part 1, which features Skawennati's avatar, xox, reciting the first verse of the Haudenosaunee Thanksgiving Address; TimeTraveller™, the nine episode journey of Hunter, a Mohawk man from the 22nd century who engages in different points of Indigenous resistance using special virtual reality glasses; and She Falls for Ages, which revisits the Haudenosaunee creation story and re-imagines Sky World.
Skawennati's engaging storytelling became a catalyst for discussions about the lack of representation when it comes to Indigenous worldviews about time, space, and worldbuilding, driving home the importance of facilitating platforms for Indigenous peoples to respond to the perpetuation of colonial and assimilatory ideals within popular sci-fi. We started by unpacking linear assumptions about time by drawing from Loretta Todd's citation of Leroy Little Bear, who offers an image of time as a river that does not flow, but one in which we can travel freely up and downstream. We also thought about why the Western worldview of time is so linear when the clocks that are predominately used are round… Even digital clocks represent a relatively cyclical pattern of time, as they run through the same numbers each day.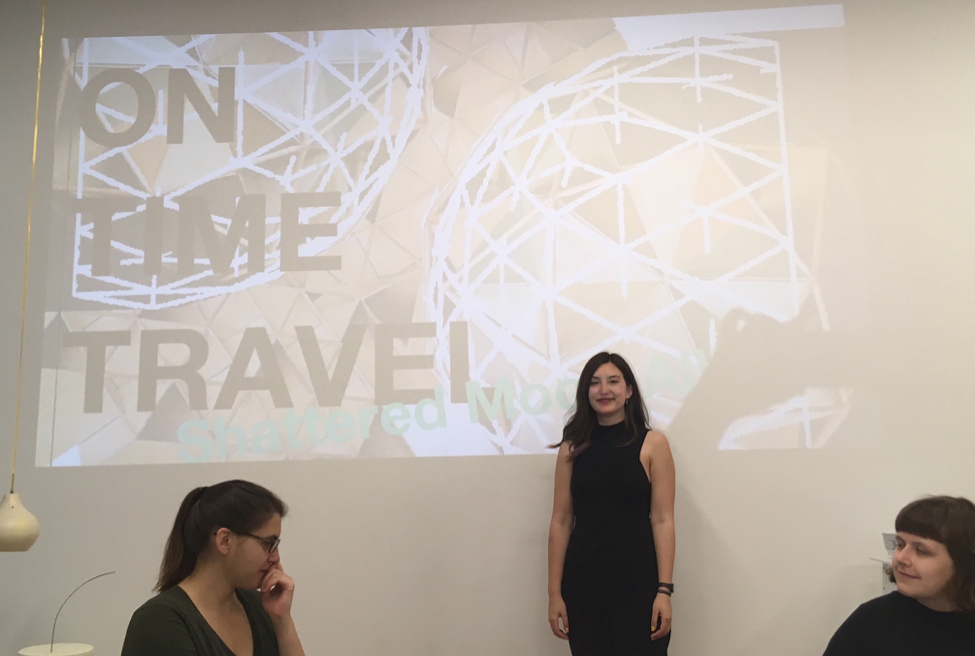 We then discussed literature like Jason Lewis' "Terra Nullius, Terra Incognito" to think about the proposal of indiscriminate access to cyberspace, and touched on Gerald Vizenor's ideas about Indigenous survivance, or "thrivance" as Skawennati had suggested, as pathways to recognizing Indigenous resilience. We acknowledged the irony in the fact that Settlers would have never survived in the first place – would never have had a future – without Indigenous knowledge. With everything that has happened since, there was a collective agreement in the group that there needs to be more support for work like that coming out of IIF and AbTeC, work that makes space for Indigenous "wants" instead of solely focusing on "needs" when it comes to ideals for the future. It is safe to say that Skawennati, IIF and AbTeC amassed a roomful of new fans that day.
In the workshop portion of the event, the group continued into a deeper "model making" discussion about time travel as informed by the presentations. The conversation, as you can imagine, ranged from the practical to the speculative, with participants bringing in anecdotes and plenty of other obscure references to various fandoms. We talked at length about understanding time travel beyond simple physical displacement, and into mental, and even spiritual forms of travel. We talked about the ability of one's senses to allow us to travel back in time, through distinct sights, smells, sounds, tastes, or touches. We discussed sleep as time travel, music as time travel, and time travel in the form of any tool we use to escape "reality," including emerging virtual reality technology. We talked about memory and time travel, both at an individual level, and at the collective level through things like intergenerational storytelling or institutions like religion. We talked, too, about what our attempts to separate religion and science mean when so many of the dominant depictions of time travel draw from or are influenced by classic religious themes and assumptions about time and space. We talked about anti-aging creams and immortality, and the possibility of uploading our consciousness into computers. We talked about how there can still be so much disconnection in an increasingly technologically connected world, and what it means for us to envision the future and the logistics of time travel as so technologically charged when the majority of the human population consumes technology instead of understanding and creating it. We considered what this means for access, equity, and justice for different subsets of our society.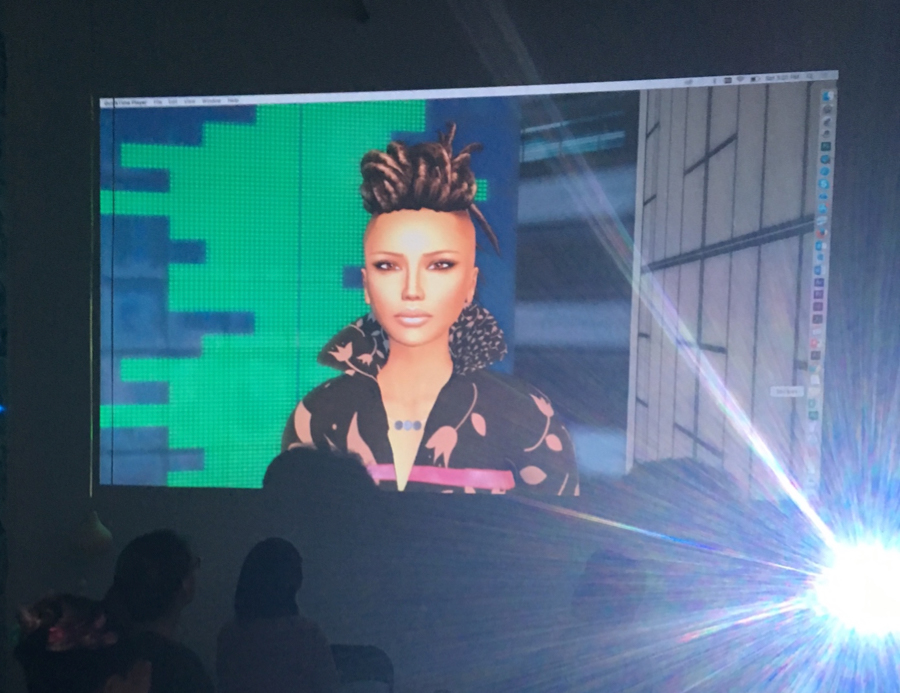 As you can see, the workshop truly succeeded in gathering a group of predominantly non-male, non-white sci-fi enthusiasts who were eager to discuss the philosophical underpinnings of time travel. The workshop was a mental workout, but an exercise with very real ethical and political significance. It is vitally important to diversify the perspectives and encourage interdisciplinary approaches when it comes to time travel. Science-fiction, while technically stories that we tell about our future, also discloses a lot about our past and present. Recognizing the interconnectedness of time – and challenging its linear conceptualizations – will be key to creating a future that draws from the wisdom of the past in order to create adaptive cycles instead of the repetition of mistakes. Skawennati's work, and the work of IIF and AbTeC, was incredibly relevant and important for "On Time Travel," and I am so honoured to have been given the opportunity to ensure that they were heard.