Machinima Demo – OCAD U
Location: Concordia University, Montreal, QC
Date: February 21st, 2018
Duration: 2 hours
Instructor: Nancy Townsend
Overview: On Wednesday, February 21st, AbTeC and IIF had the pleasure of hosting a contingency of Indigenous students from the Ontario College of Art and Design University (OCAD U) at our headquarters in Concordia University, Montreal. Professor Jason Edward Lewis kicked off the visit with an introduction to all the branches of AbTeC / IIF – including some PhD & grad student residency spots that are still open! – and subsequently invited the students and their accompanying professors to explore a few of our most recent projects.
---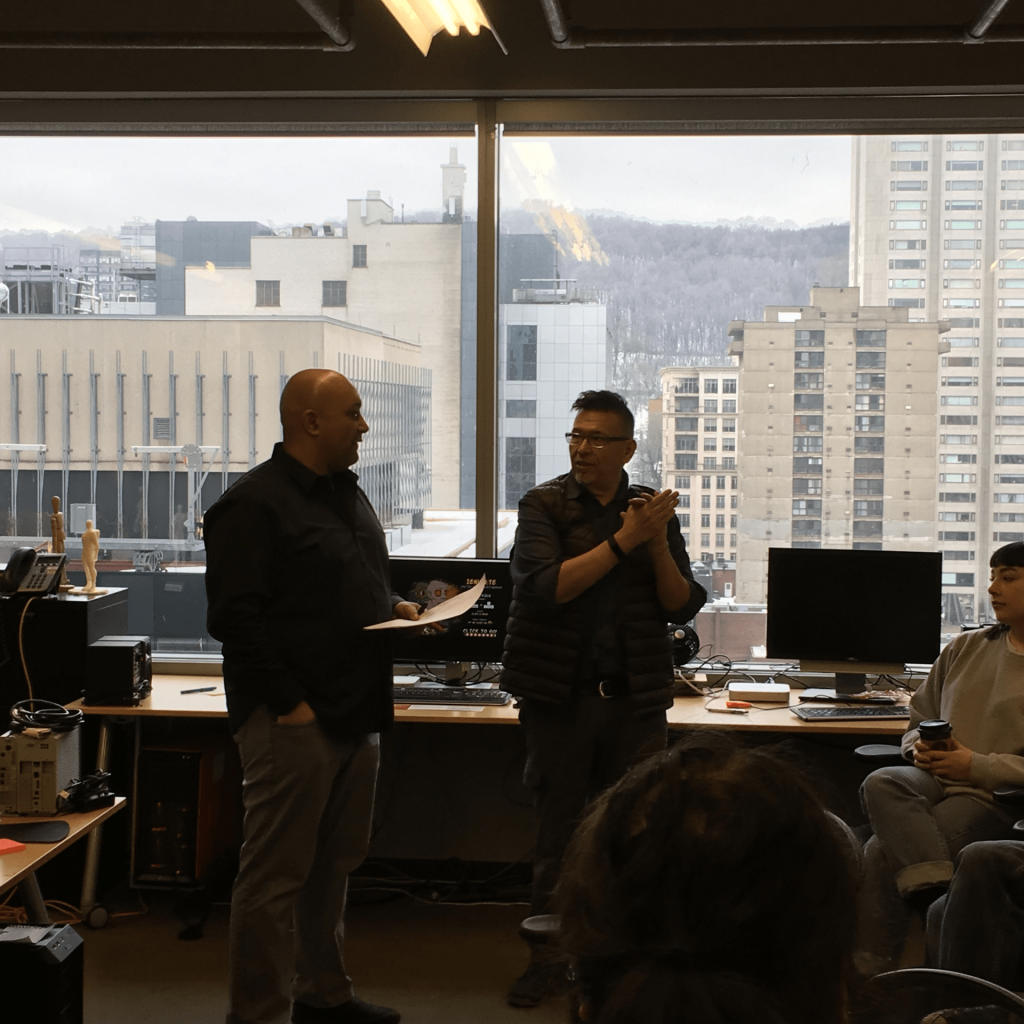 In the Residency room, our Technical Director, Sabine, set up two VR pieces produced for the 2167 project: Scott Benesiinaabandan's "Blueberry Pie Under a Martian Sky" and Postcommodity's "Each Branch Determined". Inside the primary lab space were the three most recent Skins video games: "Skahiòn:hati | Rise of the Kanien'kehá:ka Legends", "Ienién:te and the Peacemaker's Wampum" as well as "He Ao Hou", all available on multiple machines so that every visitor could get a chance to experience each. The entire lab was vibrant with the sounds of Kamapua'a's chant, the Flying Head's screeches and the manic laughter of Ienién:te's evil archaeology professor.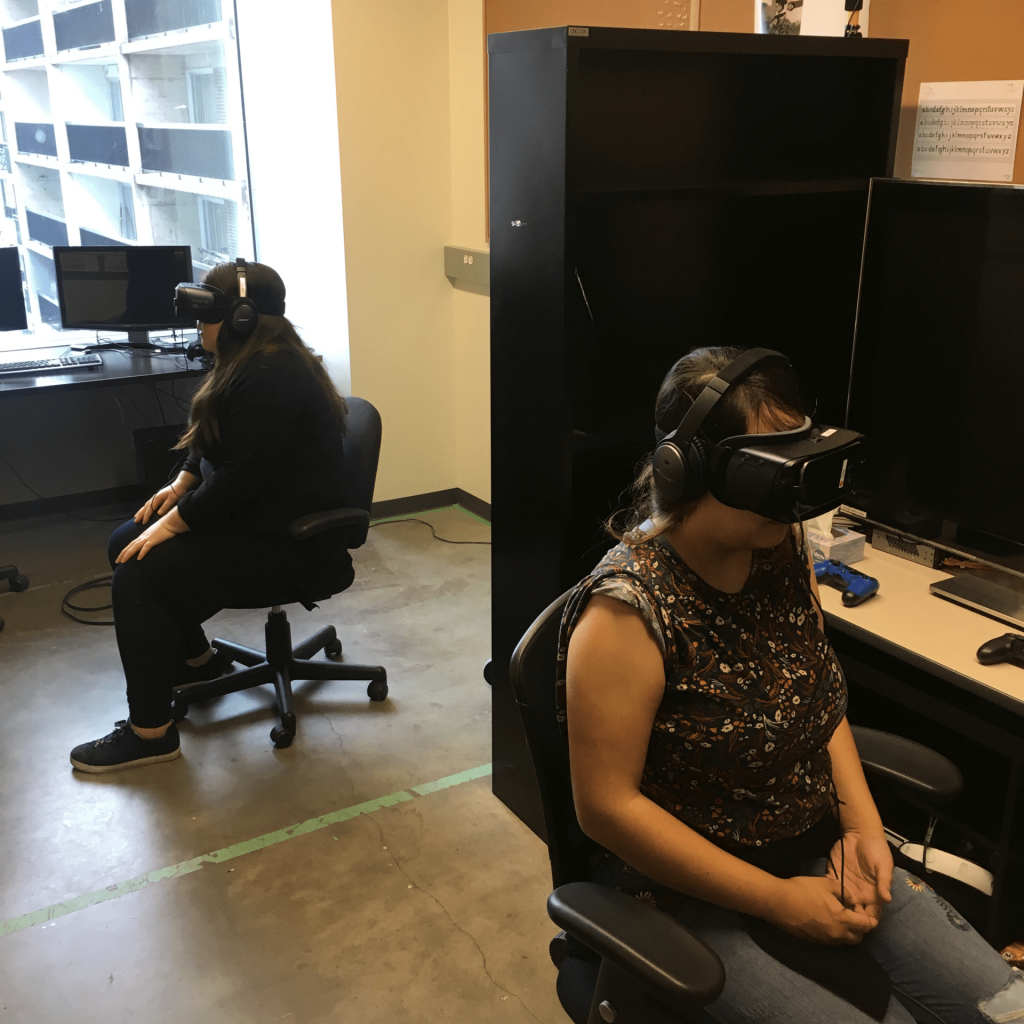 After playing games and getting lost in virtual reality, the group moved on to the Milieux Institute's Resource Room for a machinima demo run by AbTeC producer, Nancy Townsend. She brought in one of the lab's powerhouse Alienware laptops to best show off the graphic capabilities of Second Life while introducing the basics of what machinima is, why AbTeC has such a vested interest in it and how, specifically, such projects are made. Machinima is a combination of the words "machine + cinema". In essence; movies made in virtual environments. AbTeC specifically uses the massive online engine of Second Life to produce works by the artist, Skawennati.
Popular examples of machinima were shown, including excerpts from Skawennati's newest work, "The Peacemaker Returns" in addition to older, pop-culture examples such as "Red vs. Blue" which was made using Microsoft's Halo game. Nancy then booted up Second Life and did a tour of AbTeC's virtual headquarters, AbTeC Island.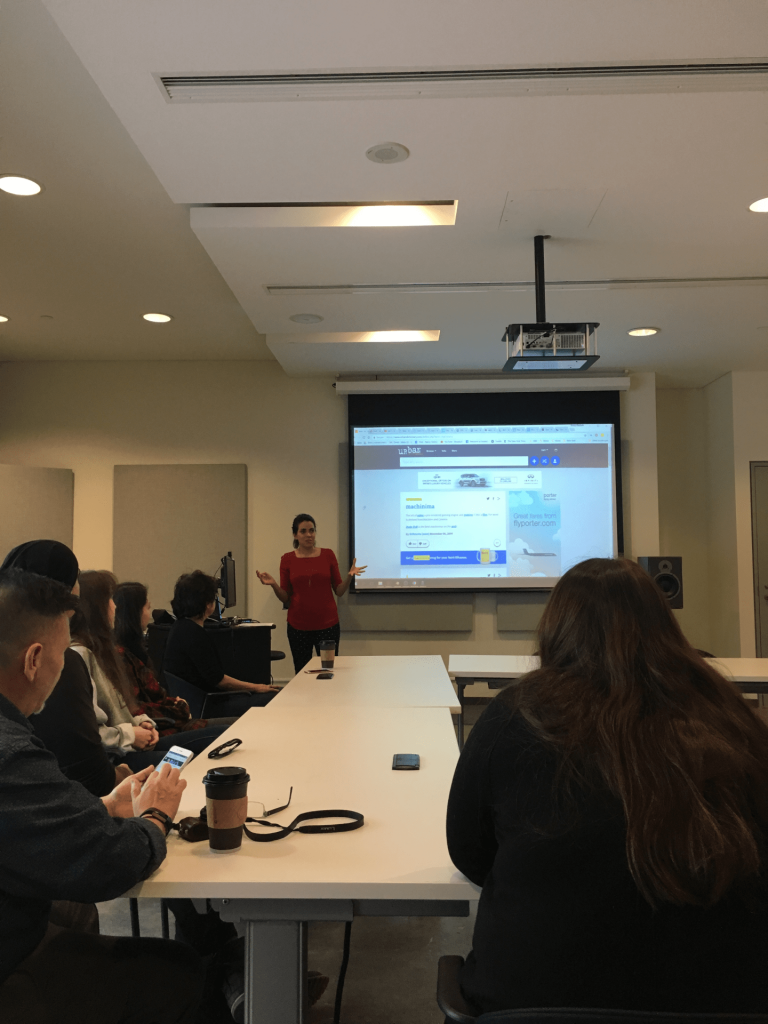 The group touched upon all the unique capabilities of Second Life, such as customizing avatars and sets with 3D models made in other software, as well as the step-by-step process of making a machinima. Lighting and water levels were adjusted, animations tested, amusing collage costumes made using the Second Life Marketplace, and 3D-mouse camera controls explored. In the end, the participants were shown how to control an avatar while capturing the Second Life screen in order to "shoot" a scene, which can later be edited with music, dialogue and effects.
In conclusion, during the brief but action-packed visit, students of OCAD University received a mere sampling of all the amazing, original, Indigenous work being created by AbTeC and IIF. We hope that they feel inspired to take what they've seen and, perhaps, apply it to their own future projects, ensuring the Indigenous peoples continue to tell their own stories within the vast domain of cyberspace.