Tsi Tiotonhontsatáhsawe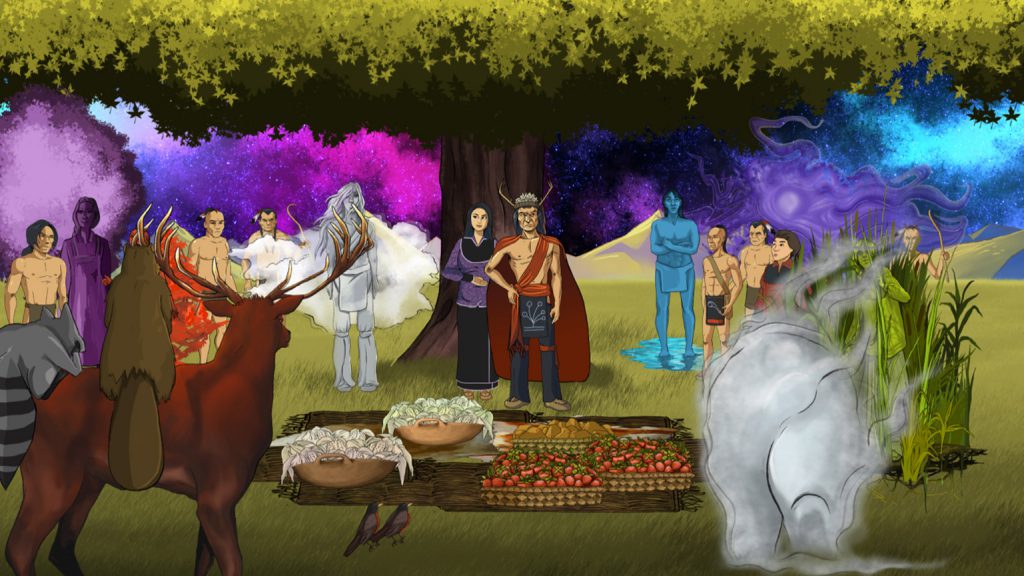 Tsi Tiotonhontsatáhsawe
Tsi Nihotirihò:ten ne Ratironhia'kehró:non
a 2.5D animated version of the Haudenosaunee Creation Story in Kanien'kéha
Kanien'kehá:ka Onkwawén:na Raotitióhkwa Language and Cultural Center (KOR) and Aboriginal Territories in Cyberspace/Initiative for Indigenous Futures (AbTeC/IIF) have teamed up to create Tsi Tiotonhontsatáhsawe, an animated version of the Haudenosaunee Creation Story narrated completely in Kanien'kéha (Mohawk). The movie will form the basis of a set of culturally appropriate curriculum materials for Kanien'kéha Ratiwennahní:rats, KOR's adult Kanien'kéha immersion program.
"It is of vital importance that we, as Onkwehón:we, develop our own rich, relevant and meaningful resources that address the unique needs and interests of Onkwehón:we students. As such, it was imperative that we develop curriculum around our epic creation story."
Tsi Tiotonhontsatáhsawe began over ten years ago when, after being asked by students for culturally specific learning materials, KOR began researching our creation story. In addition to consulting written references, they met with knowledge-keepers from throughout the Confederacy, gathering various parts of the story, some in Kanien'kéha, some in other Haudenosaunee languages, some in English. Once they had all the pieces, they wrote it into a cohesive narrative, and then translated it into Kanien'kéha.
KOR then began to create artwork to accompany the narrative. However, after making dozens of drawings, they found they did not have the capacity or expertise to create a media production.
In May 2018, they approached AbTeC, who agreed to develop the first 30 minutes of the script.
We decided to use a technique known as 2.5D animation. It uses two-dimensional image assets, such as a drawing of a character, a longhouse, or a tree, and places them onto different image planes to give a 3D effect. This way we could bring to life the beautiful art that had already been created.
Tsi Tiotonhontsatáhsawe will fully come to life when it is used in KOR's immersion classes. We imagine future community activities based around the movie, including regular public screenings and broadcasts on Kahnawake's local cable channel. Its beneficial long-term effects include a reusable resource that promotes greater language depth, and a media piece that can be a shared cultural event and artifact.
---
Credits
Kanien'kehá:ka Onkwawén:na Raotitióhkwa Language and Cultural Center
Trina Stacey
Curriculum Resource Coordinator
Transcription & Translation
Narration
Teiowisonte Thomas Deer
Art Direction & Music Coordinator
Reaghan Tarbell
Executive Director
Lisa Phillips
Executive Director
Aboriginal Territories in Cyberspace
Skawennati
Jason Edward Lewis
Executive Producers
Nancy Elizabeth Townsend
Producer
Ray Caplin
Character Animation & Compositing
Waylon Wilson
Project Coordinator
Motion Graphics & Compositing
Kaia'tanoron Dumoulin
Animatic
Assistant Character Design
Background and Prop Art
Aaron Schmit
Animation
Shawn Mullen
Sound Design
Unna Regino
Graphic Design
Nima Navab
Technical Director
Music
TBD
Funded by
Social Sciences and Humanities Research Council
Initiative for Indigenous Futures
Additional Funding
2019 Elspeth McConnell Fine Arts Award
Created at
Aboriginal Territories in Cyberspace
Obx Labs